Banana oatmeal pancakes made right in the blender! These fluffy healthy pancakes are naturally gluten free, dairy free and contain no flour or added sugar. Get ready for a simple yet delicious breakfast!
My latest mission in life is to become the Queen of Healthy Pancakes, mother of oat flour, first of her name, the Queen of Sunday Morning Brunch, Tahini Queenie, Cinnamon Roll Goddess, along with some other titles.
If you have no idea what any of that is referring to, then let's just move along. For those of you that get it, then you know that Game of Thrones is always on my mind. BEST SHOW EVER (especially after last night!)
Now let's move on to these deliciously fluffy, healthy pancakes: BANANA OATMEAL PANCAKES made right in your blender. Can you believe it?
There's no flour, no butter, no sugar or any kind of sweetener added. Which means these pancakes are made for anyone, including kids!
Ingredients in Banana Oatmeal Pancakes
These healthy pancakes are made with bananas, eggs, almond milk (or any milk), vanilla extract, gluten free old-fashioned rolled oats, baking powder, cinnamon and salt. They're very fluffy, naturally sweet thanks to the ripe bananas.
These gluten free pancakes also happen to be an awesome post-workout breakfast because they're packed with healthy complex carbs and 12g protein per serving. YASSS.
How to make Banana Oatmeal Pancakes
Making this banana oatmeal pancake recipe is easier than you think. Just place all ingredients into a blender and blend until smooth, about 1 minute. Let the batter sit for 2 minutes in the blender while you heat your pan.
Add olive oil or coconut oil to a griddle or large nonstick pan and place over medium heat. Add pancake batter 1/3 cup at a time. Cook for about 2-3 minutes or until golden brown and tiny bubbles appear around the edges. Flip and cook 2 minute more.
Serve pancakes with fresh fruit and a drizzle of pure maple syrup. Enjoy!
How to keep pancakes warm
You can absolutely make these pancakes ahead of time and keep them warm in the oven. Simply place oven at 200 degrees F, then add pancakes to a platter or oven-safe plate and place in the oven until ready to serve.
How to freeze pancakes
If you really want to make your pancakes ahead of time and serve them at a later date, you can place the pancakes on a baking sheet so they aren't touching and place in the freezer for 30 minutes, then place them in freezer safe containers and freeze for up to 3 months. Once ready to reheat, simply add pancakes to a plate and microwave for 30-60 seconds or until warm.
I can't wait to hear how you like these healthy banana oatmeal pancakes. They're one of my new favorite breakfast recipes and remind me of banana bread. They'd be perfect for Mother's Day brunch too! I recommend drizzling them with peanut butter and a little pure maple syrup.
A good flat nonstick pan or griddle and a nice wide flexible spatula are essential to creating easy to make pancakes. Find some of my favorites below!
I know you're going to love these banana oatmeal pancakes, please let me know if you make it by leaving a comment and rating the recipe below. I'd love to hear from you and it helps encourage others to make the recipe too! Enjoy xo!
Healthy Banana Oatmeal Pancakes (made in the blender!)
Banana oatmeal pancakes made right in the blender! These fluffy healthy pancakes are naturally gluten free, dairy free and contain no flour or added sugar. Get ready for a simple yet delicious breakfast!
Ingredients
2

 

medium ripe bananas (best when they have lots of brown spots)

2

 

eggs

1/2

 

cup

 

unsweetened almond milk

1

 

teaspoon

 

vanilla extract

1 ½

 

cups

 

old fashioned rolled oats, gluten free if desired

2

 

teaspoons

 

baking powder

½

 

teaspoon

 

ground cinnamon

¼

 

teaspoon

 

salt

Olive oil, for cooking
Instructions
Add all of the ingredients to a blender and blend on high until completely smooth, about 30 seconds to 1 minute. Let the batter sit in your blender while you heat your pan up.

Lightly coat a griddle with coconut oil, vegan butter or olive oil and place over medium heat. Once pan is hot, add 1/3 cup of the batter to the griddle for each pancake and cook for 2-4 minutes until pancakes slightly puff up and you see a few bubbles along the edges.

Flip cakes and cook until golden brown on underside. If you find that pancakes are browning too quickly then you need to lower the heat. I normally start on medium heat, then decrease to medium low later so that my pancakes don't burn. If at any point your griddle starts smoking, it means your pan is too hot.

Wipe skillet clean and repeat with more oil and remaining batter. Makes 9 pancakes total. Serves 3, 3 pancakes each.
Nutrition
Serving size: 3 pancakes
Calories: 311kcal
Fat: 6.9g
Saturated fat: 1.3g
Carbohydrates: 51.5g
Fiber: 7.4g
Sugar: 10.8g
Protein: 12.2g
RECIPE B
Essential Ingredients
100g oats
1 tsp baking powder
1 ripe banana
120ml milk
1 tbsp lemon juice
1 tbsp syrup
1 tsp vanilla
Coconut oil, for frying
To serve: yoghurt, warm berries, nut butter
Directions
Combine all the pancake ingredients in a blender and blend until smooth. Leave the batter to rest for 5-10 minutes.
Heat a non-stick pan with some coconut oil and when hot add in 1 large tbsp of batter per pancake.
Cook over a medium-high heat for 2 minutes until golden brown and flip over. Cook on the second side for a couple of minutes.
Repeat to use up all the batter and serve with your favourite toppings.
These delicious gluten-free Banana Oatmeal Pancakes are a great hearty and nutritious breakfast the whole family will love. Easy to prep with simple ingredients, they are the perfect way to start the day.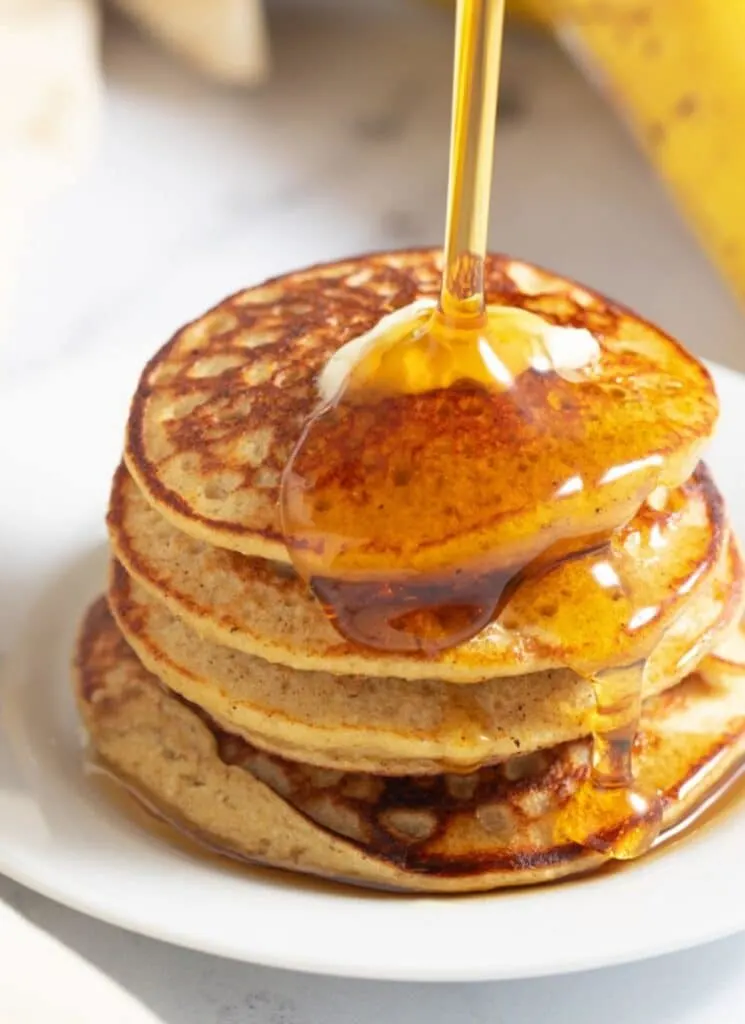 This post contains affiliate links, please read my full disclaimer here.
Full Recipe Ingredients/Instructions are available in the 
recipe card at the bottom of the post. 
You can find important tips/tricks in the
blog post.
Pancakes are always popular in our house and they are requested at least once a week! These fluffy pancakes are made with banana and oatmeal to keep everyone feeling fuller for longer.
Perfect topped with maple syrup, fresh fruit or my million dollar bacon!
How To Make Banana Oatmeal Pancakes
Gather your ingredients:
Bananas
Milk
Eggs
Baking powder
Salt
Honey
Old fashioned oats
Add ingredients to the blender
Blend in blender for 30 seconds on medium-high speed or until fully mixed, the batter should be liquid.
Set mixture to the side for about 5 minutes.
Lightly heat griddle or large frying pan over medium-high heat and lightly oil with butter or oil.
Pour batter onto griddle or pan, about ¼-½ cup at a time. Allow the pancake to brown on one side, about 2-3 minutes and when large bubbles begin to appear at the top, then flip and continue to brown on the other side.
Remove and continue with the remaining batter. Serve with your favorite pancake toppings.
Light and fluffy pancakes!
Despite these pancakes being made without flour, they are still super fluffy and light. The baking powder is a key ingredient, so whatever you do, don't skip that! By using a blender, you also get extra air in the batter to mae it really light.
Gluten-Free Pancakes
These banana oatmeal pancakes are the perfect option if you or anyone in your family has a sensitive or intolerance to gluten. If that is the case, be sure to check that your oats are GF certified as they are often manufactured in the same places as gluten products.
Can you make them ahead of time?
There are several options to make these tasty banana oatmeal recipes ahead of time:
Make the batter the night before. Keep it covered in the fridge and let it warm to room temperature before cooking.
Make the pancakes and refrigerate them. Let them cool and cover them. You can reheat them in a microwave with each pancake separated by paper towel. Reheat them in 20 second increments. You can also reheat them in an oven at 350F for 5 to 10 minutes.
Make the pancakes and freeze them. Freeze the cooled pancakes on a baking sheet then transfer to a freezer bag or airtight container. You can either defrost them or reheat them from frozen.
Recipe Notes and Tips
Allowing the batter to rest will allow your pancakes to puff up better. I'd let it rest for about 5-10 minutes.
Grease the griddle or pan between each batch of pancakes. That will allow the pancakes to brown more evenly on all batches.
If you find that your butter is burning on the griddle or pan or that your pancakes are getting too dark, lower the heat. Sometimes after the first batch, the temperature will need to be modified to accommodate the pan or griddle being on so long.