Here's some of my favorite dinner ideas for large family dinners. They've been used multiple times in my own house and have been nominated as the best recipes in my family history! It's a tough job making everyone happy but these suggestions have always given everyone reason for two thumbs up!
You don't have to suffer through all those TV dinners when you have 8 kids to feed. Here are delicious and easy dinner ideas for large family.
Simple Recipes If You're Needing To Feed A Large Family
If you're cooking for a large family while social distancing, you're probably getting a little tired of spending time in the kitchen. Thankfully, here are some big-batch crowd-pleasing recipes that are simple and stress-free yet full of flavor.
1.
Slow Cooker Shredded Chicken Tacos
2.
One-Pan Sausage And Veggies
3.
Fajita Pasta Bake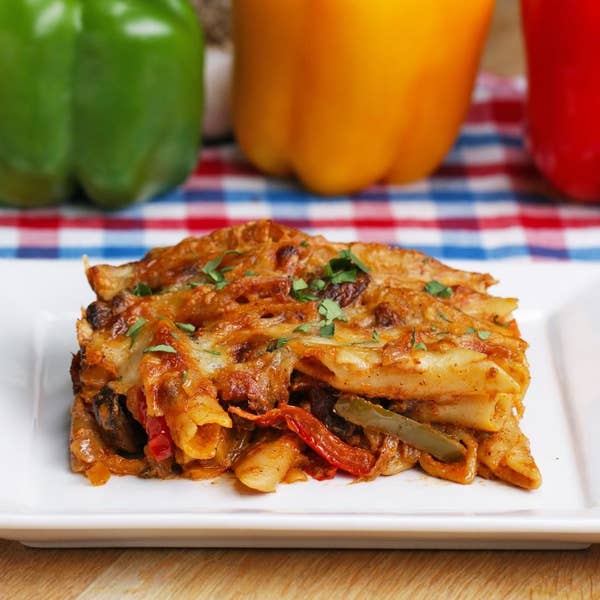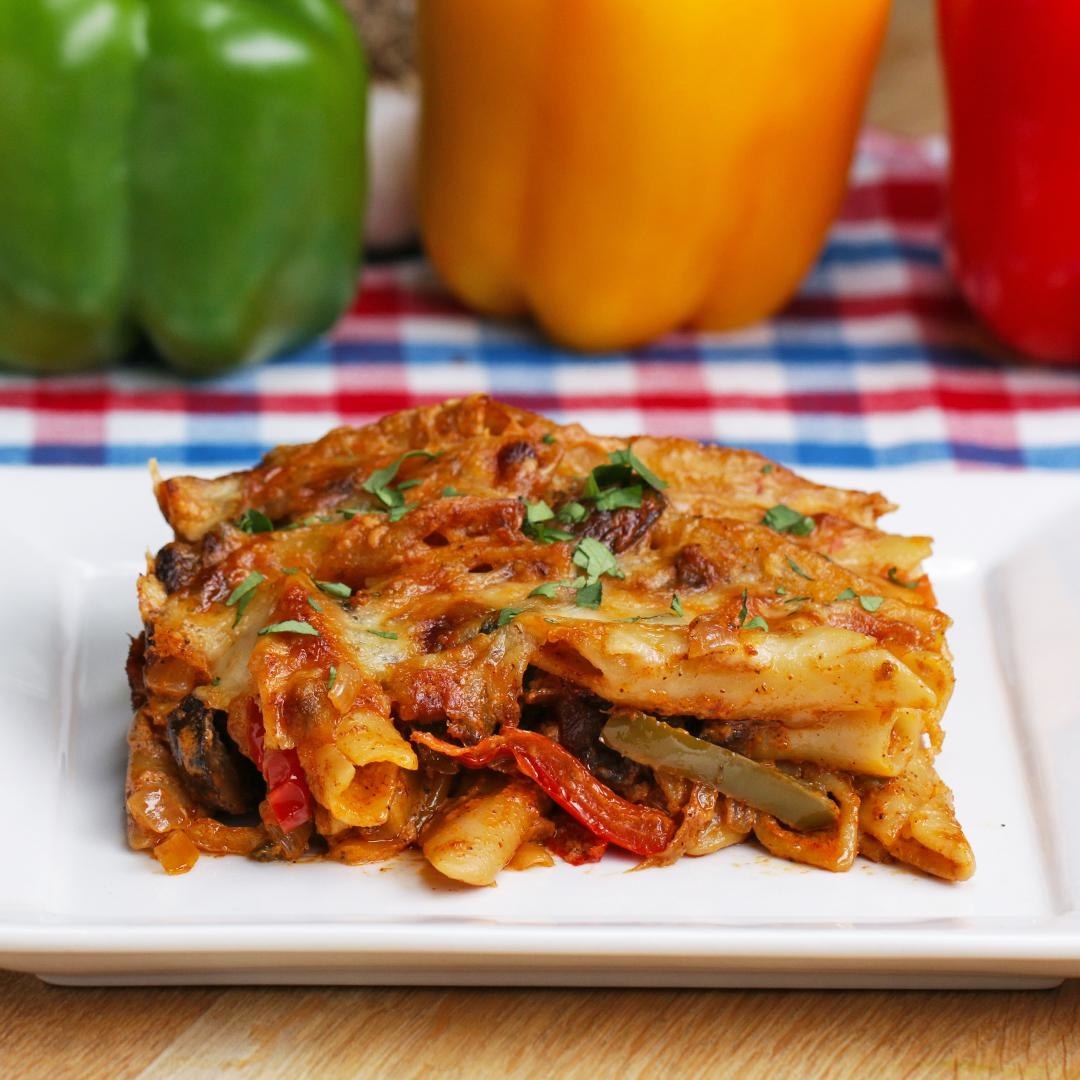 5.
One-Pot Spicy Thai-Inspired Noodles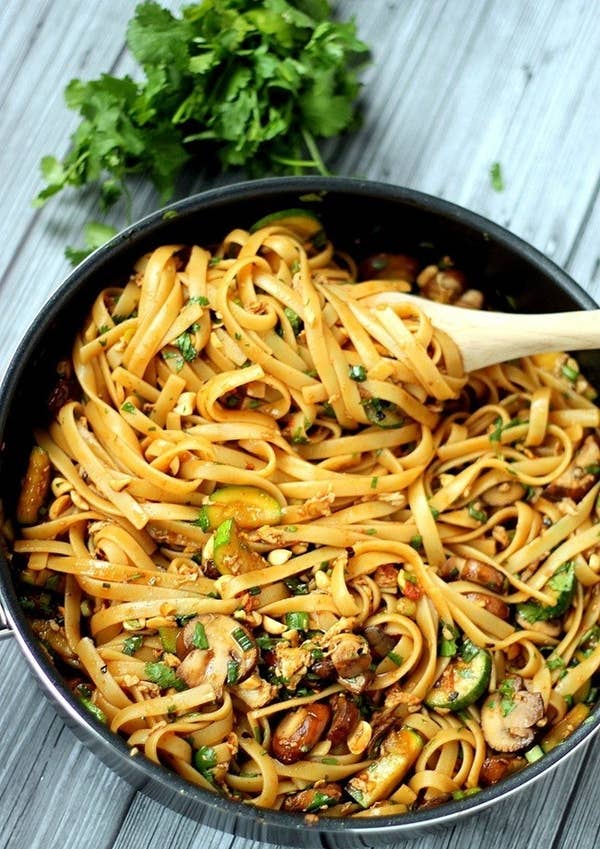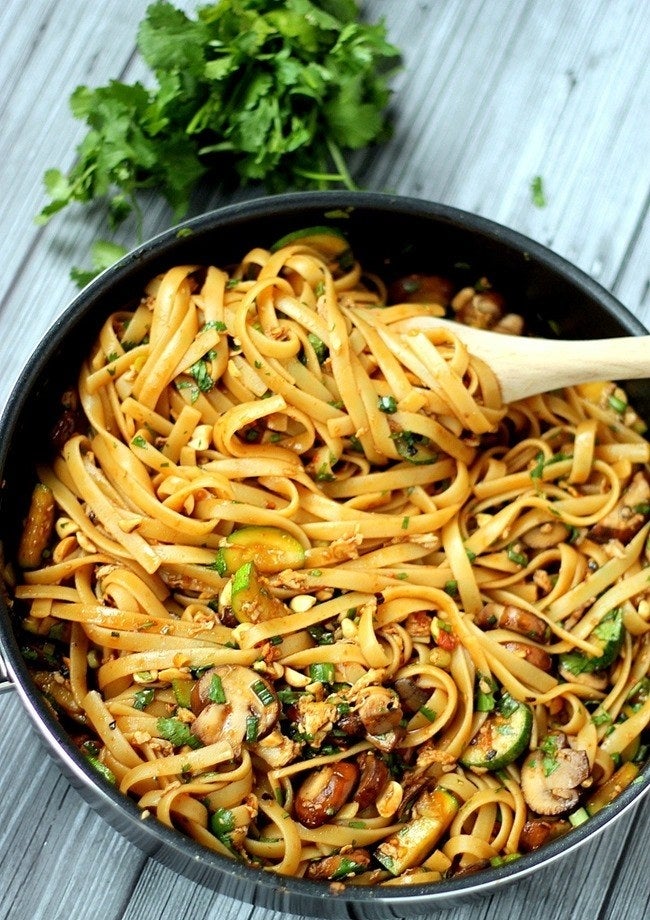 6.
15-Minute Sheet Pan Chicken Fried Rice
7.
Ground Turkey Stuffed Peppers
8.
Easy Swedish Meatballs
9.
One Pot Cheesy Chicken, Rice, and Broccoli
10.
Baked Ziti with Ricotta and Sausage
11.
One Pot Lemon Chicken, Spinach, and Asparagus Orzo
12.
Sheet Pan Eggplant Parmesan
14.
Chicken Pot Pie With Crescent Roll Crust
15.
Tomato Spinach Ravioli Bake
When cooking for our families, most of us get into a routine of cooking the same easy dinner recipes every week.
6. Garlic Spaghetti (Spaghetti Aglio e Olio)
Do you love garlic? Then we have something you're going to love.
Spaghetti Aglio e Olio (garlic spaghetti) is a garlic-lovers dream dish. And the Parmesan cheese sends this dish to the moon and back with goodness.
This pasta dish has simple ingredients and it's ready to eat in 20 minutes, start to finish.
To add more flavor to this simple traditional dish, feel free to add a bit of parsley or a dash of red pepper flakes.
Serve this garlic spaghetti with some equally buttery and delicious garlic bread.
To make this pasta dish with meat, it would be delicious with chicken breast.
Want this dish to be vegan? Simply use a vegan Parmesan cheese substitute.
7. Ravioli Lasagna
There are times when even a small change can make all the difference in the world when it comes to what our families love to eat.
One great example is when you use ravioli instead of lasagna noodles to create a delicious ravioli lasagna.
The ravioli in this lasagna adds tons of extra flavor.
Even better, though, is that it adds a whole new texture to a traditional casserole.
You can even get creative and use any type of filled ravioli for even more easy family dinner ideas.
8. Chili Cheese Dog Pizza
OK, so this isn't exactly an elegant dinner.
However, do you want something elegant, or do you want something satisfying and tasty that your family will gobble up?
Whoever thought about combining two of our favorite meals (chili cheese dogs and pizza) was a genius.
The best part is that the adults in the family will be as excited about this fun pizza as the kids are.
Both homemade pizza dough or a store-bought version will work for this pizza recipe.
For adults, you can even add some hot peppers to make it a little spicier.
9. Quick Turkey Ragu
Also called turkey bolognese, this dish is ready in less than an hour, has loads of flavor, and is somewhat healthier than the traditional ragu that is made with beef and pork tenderloin.
This recipe uses ground turkey and turkey bacon, so you're serving an incredibly low-fat meal to your family.
One thing that makes ragu so delicious is the red wine and fresh basil.
You can make the marinara sauce from scratch, but if you don't have time, a store-bought marinara will work just fine.
You can serve this as a zucchini noodle dish if you're feeling creative.
10. Black Bean Burgers
If you're doing Meatless Monday every week, how about giving hearty black bean burgers a try for a weeknight dinner?
Not every family member may embrace a day of eating no meat, but these burgers make it effortless.
Best of all, you can load your burgers up with all of the normal fixings. Try grilled onions, garlic, pepper, and feta cheese for a gourmet meatless meal that's packed full of protein.
Even if you're not vegetarian or vegan, you may find yourself suddenly excited about Meatless Mondays when you know you're serving these burgers.
Wholewheat spaghetti with roasted veg
Our wholewheat spaghetti with roasted veg serves six and is ready on the table in just 20 minutes. This vegetarian dish is a healthy family meal made with aubergines, wholewheat spaghetti and infused with lemons, basil and mint.
Butternut squash and sage risotto
Give your risotto a healthy and flavoursome boost by adding hearty chunks of butternut squash. The butternut squash counts towards your 5-a-day. You can opt to leave the white wine out of this risotto to make it even healthier.
Hearty root and barley soup
Packed with veggies and chicken, this hearty root and barley soup is the perfect recipe for getting the whole family eating well. Not only is this soup low-fat, it also only works out at 259 calories per serving.
Quorn, squash and spinach lasagne
Try this veg-packed Quorn, squash and spinach lasagne. Make the cheese sauce from scratch using semi-skimmed milk and cornflour. Serve with a fresh side salad or seasonal veg.
Winter root vegetable tagine
Our winter root vegetable tagine includes carrots, parsnips, sweet potatoes and butternut squash – that's four of your 5-a-day. All infused in a rich tomato, harissa sauce.
Roasted ratatouille pasta
Ratatouille is a tasty vegetable stew packed full of plenty of vegetables including peppers, courgette, aubergine and plum tomatoes. Toss with garganelli or penne pasta and serve.
Hairy Bikers' Spanish-style chicken bake
Working out at only 370 calories per serving, this bake is packed with protein, thanks to the chicken, which will keep you fuller for longer and includes veggies such as onion, tomato and peppers.
This tasty stuffed-veg recipe packed with pepper, courgette, and butternut squash is just 223 calories a serving. The butternut squash is a great source of vitamins A and C.
Slow cooker Asian chicken thighs
These slow cooker Asian chicken thighs take around 4 hours to cook in a slow cooker so make sure you prepare it in advance. The soy sauce, rice wine vinegar, agave syrup and ketjap manis make this chicken extra tender and sticky.