Asian Zoodle Buddha Bowl is the perfect way to enjoy fresh veggies for lunch or dinner.
Packed with flavor, this creamy Asian dressing is so easy to make and takes these fresh veggies to the next level. Made with zucchini noodles, chopped veggies, quinoa and sunflower seeds, this vegan Buddha bowl is the perfect meal to enjoy when you want something light but filling.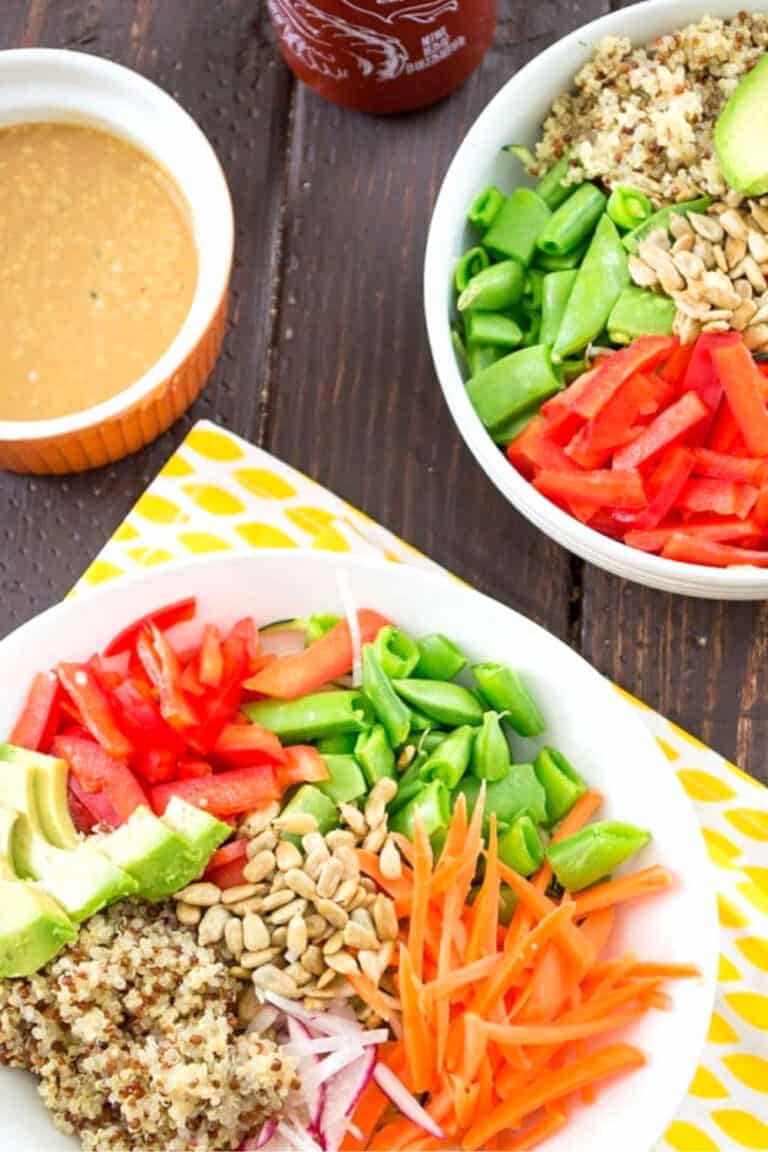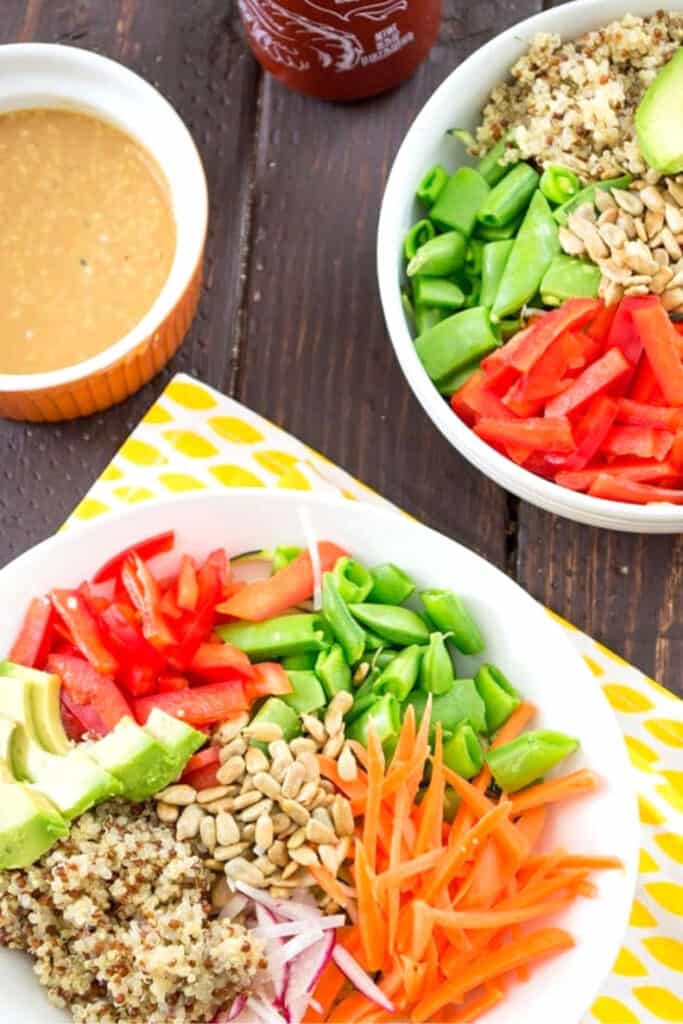 WHY I LOVE THIS RECIPE
No cooking required (if you have leftover quinoa): This dish doesn't require you to turn on the stove at all! Using leftover quinoa from meal prep, this vegan bowl is ready is ready in under 10 minutes (even faster if you have good knife skills or buy pre-shredded carrots).
Filling vegetarian meal: The combination of veggies, quinoa, sunflower seeds, avocado and the Asian dressing are extremely filling and so simple to throw together. You could also use leftover jasmine rice in place of the quinoa. If you are not vegetarian, you can add your favorite cooked protein: shrimp, chicken, salmon would all work well here.
Great alternative to salad: I love a good salad but sometimes you need to mix things up to keep them interesting. This zoodle bowl is packed with flavor and a fun way to get in veggies without being salad.
WHAT VEGGIES TO USE
This Asian Zoodle Buddha Bowl is very easy to adapt to whatever you have on hand. Feel free to add your favorite veggies as well.
Zucchini noodles as the base for volume
Chopped sugar snap peas, chopped bell peppers, shredded carrots and fresh radishes, for crunch, texture and color.
Other veggies you could add:

Broccoli slaw or shredded cabbage for volume
Sautéed or roasted broccoli, asparagus, cauliflower
FAQS
WHAT IS A BUDDHA BOWL
Have you ever heard of a Buddha bowl? Honestly, I had to google "Buddha Bowl" to get an understanding of what exactly a buddha bowl was.
According to the Urban Dictionary, a buddha bowl is "a bowl that is packed so full that it has a rounded "belly" that appears at the top of the bowl so it looks like the belly of a Buddha"
HOW TO MAKE LOWER FAT PEANUT SAUCE
The peanut sauce on this bowl is so delicious. The secret is peanut powder! Have you tried this yet? Peanut powder is made by roasting peanuts, pressing the oil out of the peanuts and grinding what is leftover down into a flour. Peanut powder is high in protein but much lower in fat than peanut butter.
You may have used this before, it's carried in most grocery stores now, usually called PB2. PB2 has added sugar so I typically don't buy it. Instead I buy Organic peanut powder at Trader Joe's (it's a great price there) or grab Crazy Richards PB Powder at my local grocery store.
Combine the peanut powder with coconut aminos (or tamari), rice wine vinegar, sriracha, ginger and garlic to create an Asian peanut sauce that perfectly coats the veggies without overpowering the dish!
HOW TO MAKE SPIRALIZED ZUCCHINI NOODLES AT HOME
If you haven't bought a vegetable spiralizer yet, I hope this post changes your mind! I'm convinced its a kitchen essential and even bought one for my mom for mother's day.
I love how simple the spiralizer is to use and how I don't feel weighed down after eating a big bowl of zucchini noodles like I would with traditional pasta!
SUBSTITUTIONS:
Zoodles: If you don't have a spiralizer, you can actually buy frozen zucchini noodles and carrot noodles at most grocery stores now. If you don't love zoodles, you could also use spaghetti squash, low carb pasta (daikon radish), or sweet potato noodles.
Quinoa: If you don't have quinoa on hand or don't love it, you could use brown or white jasmine rice or even cauliflower rice that has been sautéed to remove some of the excess liquid.
Veggies: Shredded carrots, sugar snap peas, radish, bell pepper: You can use whatever veggies you have on hand in this dish, that is the great thing about buddha bowls, they are incredibly versatile. You may decide based on what veggies you use to sauté them or even roast them first.
Avocado: The avocado adds some healthy fat and creaminess to the dish. You can omit the avocado if you don't love it or don't have it on hand and just add more nuts or seeds.
Sunflower seeds: I love sunflower seeds because they are inexpensive and add crunch and lots of vitamins and minerals. You could also use pumpkin seeds, hemp hearts, sliced almonds, chopped pecans, walnuts, cashews or even peanuts in place of the sunflower seeds.
Peanut powder: If you don't have this on hand, you could use 3-4 tbsp. of peanut butter (creamy) in place of the peanut powder. The total fat content will be higher and you will not need as much water (probably 2-3 tbsp. depending on how thin you like your sauce).
Coconut aminos: These are a soy free and gluten free alternative to soy sauce. You can also use tamari (gluten free) if you can tolerate soy.
Rice wine vinegar: I love using rice wine vinegar in Asian inspired dishes. If you don't have any on hand, you can use lime juice in place of the rice wine vinegar.
Fresh grated ginger: You can also use powdered ginger (about 1/2 -1 tsp). in place of the fresh grated ginger.
Sriracha: I love the heat from sriracha and think it helps to elevate the overall flavor in the dish. You could also use chili garlic sauce or 1/2 tsp. crushed red pepper flakes.
ASIAN ZOODLE BUDDHA BOWL
Asian buddha bowl – vegan, gluten free, dairy free, easy to make – this healthy buddha bowl is perfect for light meals in the spring and summer. Packed with flavor and so simple, no cooking required, you can use leftover meal prep grains!
INGREDIENTS
2

 

large zucchini

 – 

$2.00

1/4

 

cup

 

shredded carrots

 – 

$0.38

1/4

 

cup

 

chopped sugar snap peas

 – 

$0.75

1

 

small

 

radish

 – 

$0.10

3/4

 

cup

 

cooked quinoa

 – 

$0.28

1/2

 

medium

 

red bell pepper

 – 

$0.65

1

 

medium

 

avocado

 – 

$0.75

1/4

 

cup

 

sunflower seeds or peanuts

 – 

$0.16
ASIAN PEANUT SAUCE
7

 

tbsp.

 

peanut powder

 – 

$1.16

2

 

tbsp.

 

coconut aminos or reduced sodium tamari

 – 

$0.36

2

 

tbsp.

 

rice wine vinegar

 – 

$0.16

6

 

tbsp.

 

water

 – 

$0.00

1

 

tbsp.

 

fresh grated ginger

 – 

$0.25

1-2

 

tbsp.

 

sriracha

 – 

$0.08
INSTRUCTIONS
Spiralize the zucchini and chop the veggies.

Finely chop the radish, carrots, and bell pepper into matchsticks. You can use your food processor to cut them into even slices.

Chop the sugar snap peas into small chunks.

Divide the veggies between 2-4 bowls depending on your own personal preference.

Add quinoa and sunflower seeds to the veggies in the bowl.

Mix the Asian Peanut Sauce and pour over the veggies and quinoa mixture.

Feel free to add your favorite protein of choice.

Stir and enjoy!
ASIAN PEANUT SAUCE
Combine all ingredients into a small bowl. Whisk with a spoon or a fork until all clumps from the peanut powder are removed and sauce is smooth. Add sriracha to taste or leave out completely.
NOTES
Tip: 
You can use the slicing or shredded attachment on your food processor to make it really easy to quickly slice or shred any veggie in seconds.