It can be tricky to find healthy breakfast on the go ideas. All of us have mornings when we just don't have time to make a monday friday breakfast. You've got places to be, people to see and decisions to make on whether you want toast with that or bacon. , or if you just want a snack in order to save money. Of course, it's easy to get bored of eating the same things day in day out. Thankfully, we put together a list of healthy breakfast on the go ideas that will help you stay happy and healthy, as well as full and satiated!
Healthy Breakfast On The Go Ideas
1. Tomato Toast with Macadamia "Ricotta"
Here's a vegan take on a classic summer breakfast sandwich. Instead of mayo, a fluffy, rich mixture of nuts, garlic, miso paste, and nutritional yeast is spread on hearty whole-grain bread. Then slices of ripe tomatoes are layered on — we love to mix red and yellow heirlooms.
Season this open-faced sandwich with ribbons of basil or shiso, kosher salt, and fresh cracked black pepper.
2. Avocado Toast with Egg
Sometimes simple is just better. Top two lightly toasted slices of whole-grain bread with smashed avocado and a sprinkling of salt and pepper. Layer on two sunny-side up eggs for a healthy dose of protein and you've got a well-rounded breakfast.
3. Nut Butter, Banana, and Chia Seed Toast
Try this superfood twist on classic PB and banana, using sunflower seed butter (or your favorite seed or nut butter) and a sprinkling of whole raw chia seeds, which are packed with an amazing array of nutrients.
Breakfast smoothies and parfaits
4. Berry and Yogurt Smoothie
Here's a simple and delicious smoothie for the morning rush. It takes less than five minutes to blend fresh or frozen fruit (banana and berries work well) with Greek yogurt and a liquid of your choice (milk, juice, coconut water — whatever you like).
This recipe makes two servings, so freeze one overnight and let it thaw throughout the day to enjoy in the afternoon.
5. Berry Breakfast Parfait
One of the easiest, healthiest, and tastiest breakfasts out there is a classic fruit and yogurt parfait. The best part? It can be made with any toppings you like. Choose fruits that are in season to get the best flavor. But in a pinch, (thawed) frozen will do.
6. Peanut Butter and Banana Smoothie
Smoothies are a perfect on-the-go snack any time of day. Blend frozen bananas, peanut butter, soy milk, Greek yogurt, honey, and a few ice cubes and you'll swear you're sipping a milkshake.
If this is a morning snack, keep it in a tight-sealing container and secure it in a pocket in your gym or work bag. For an afternoon boost, prep it the night before and freeze it. Remove it in the morning, and it will be thawed and ready when that 3 p.m. lull sets in.
Tip: Add a scoop of your favorite chocolate or vanilla protein powder for an extra shot of protein.
7. Pumpkin Granola Yogurt Parfait
This one's perfect to try out as fall sets in. In your favorite small container (with a reliable lid!), layer rich pumpkin pie cashew cream with plain Greek yogurt and a handful of granola, and then sprinkle with cinnamon.
8. Quinoa Fruit Salad
A fruit salad of berries and mango gets extra texture, body, and protein from a scoop of quinoa. Toss the whole shebang around until the quinoa is evenly distributed. Then drizzle on a sweet-tart dressing of honey, lime, and basil and toss to coat evenly.
This recipe makes 4–6 servings, so you can prep in advance and throw together a serving or two as you need.
9. Blueberry Almond Overnight Oats
This is the ultimate busy-bee breakfast. Combine oats, chia seeds, blueberries, vanilla, almond milk, and maple syrup in a sealed container and refrigerate overnight. In the morning, top with slivered almonds and half a sliced banana and you're ready for breakfast. If you're in the mood for something warm, heat in the microwave for 1–2 minutes.
10. Savory Oatmeal with an Egg
Savory oatmeal? What the… ?! Yes, this recipe takes oatmeal to a whole new level. Quick-cooking steel-cut oats (or regular rolled oats) are cooked in the microwave, mixed with white cheddar cheese, sprinkled with diced red pepper and onion, and topped with an over-easy egg.
Bonus: This recipe has useful tips for cooking in the microwave without making a mess. (We admit it: We've wreaked havoc a few times. Sigh.)
11. Ham and Cheese Quinoa Cups
Here's a new way to enjoy quinoa: Make mini quinoa breakfast quiches! These two-bite mini muffins are light and fluffy. And this recipe can be adapted to include your favorite
veggies (spinach or zucchini works well) and cheese (ummmm, cheddar).
12. Quinoa and Chia Porridge
Cooking quinoa in milk (dairy, soy, or almond) with healthy spices like cinnamon, cardamom, and turmeric infuses flavor into this great substitute for a classic hot breakfast cereal. Plus, it's high in protein.
Simply put all the ingredients into a pot and bring to a boil. Then simmer, stir, and top with your favorite seasonal add-ons.
13. Banana Peanut Butter Chia Pudding
Try this superfood twist on the classic combo of PB and banana. It tastes like breakfast for dessert, if dessert were healthy. All you need is love — in the form of chia seeds, a banana, some PB, and milk of your choice. And time: The pudding can rest in the fridge for four hours, but overnight is better.
14. Zucchini Bread Oatmeal
Turn a classic summer quick bread into oatmeal with this recipe. Adding shredded zucchini and chia seeds to the simmering oatmeal pumps up the nutritional value and starts your day with a serving of veggies. Throw on a handful of toasted walnuts for added crunch.
Breakfast muffins and bars
15. Coconut Yogurt Quinoa Muffins
By this point, it's obvious we think quinoa makes anything better. So when it comes to muffins, it's a no-brainer (especially if you add flaxseeds, oats, banana, and applesauce, too). Try these moist little bites for breakfast or an after-lunch treat.
16. Peanut Butter Banana Oat Breakfast Cookies
Cookies for breakfast? Yes, please. While Oreos or Chips Ahoy may not make a balanced breakfast, these soft, thick, chewy cookies are a top-notch choice. The recipe calls for carob chips, but you can substitute semisweet chocolate chips.
Plus, you can pick and choose what you like to mix in for flavoring — go for almond butter and raisins in one batch and peanut butter and chocolate chips in another.
17. Banana Zucchini Oatmeal Cups
With oats, shredded zucchini, and maple syrup, this vegan breakfast will start your day with veggies and grains. Make a batch of these baked oatmeal cups in advance, keep them in the fridge, and grab one for breakfast on your way out the door.
18. Apple Crisp Oatmeal Squares
Oatmeal is a great option for a hearty snack or breakfast, but what's the best way to make it more convenient and portable? Bake it into squares! In this recipe, a crisp topping covers a layer of apples over a base of banana and oats.
Tip: Individual servings can be frozen and later thawed or warmed in the microwave.
19. Morning Glory Muffins
These oat-based muffins (pssst… it's a Martha Stewart recipe) are packed with healthy carrots and zucchini and lightly sweetened with raisins and a pinch of sugar. Use a mini muffin tin for smaller portions and cut back on the brown sugar or choose a healthier substitute).
20. Healthy 5-Ingredient Granola Bars
These tasty, easy no-bake granola bars will remind you of your morning oatmeal, but you can eat them anywhere you like. This recipe calls for honey, but we like to replace it with maple syrup to make the bars vegan.
21. Zucchini, Banana, and Chocolate Chip Muffins
Any recipe that fits a serving of veggies into a delicious baked good is a winner in our book. These muffins are jam-packed with better-for-you ingredients — coconut oil, zucchini, banana, and whole-wheat flour — plus chocolate chips for an extra bit of sweetness.
Quintessential eggs
22. Breakfast Egg Muffins
Finally, a muffin without allllll that sugar. These are simple to make ahead of time, and they last all week — great for grab-and-go breakfasts. Blend or whisk eggs with spinach, bacon, and cheese, and then pour the mixture into muffin tins. Bake for 15–20 minutes before serving.
Tip: Once they've cooled, store them in the fridge. They'll warm up nicely in the microwave in your office (sorry it smells so good, co-workers).
23. Spinach and Cheddar Microwave Quiche
Yes, it's possible (and easy) to make a quiche in the microwave! Cover half a cup of spinach with water in a mug and microwave it for a minute. Drain the water and add an egg, milk, cheese, and a crumbled slice of bacon. Mix thoroughly, and then microwave for three more minutes.
Transfer it to a container to eat later or enjoy it right away.
24. Slow-Cooker Sausage and Egg Casserole
Wake up to a house smelling like sausage and effortlessly put breakfast on your plate, all thanks to the beauty and benefits of a slow cooker.
Layer the vegetables, sausage, and cheese in the slow cooker; top with a mix of eggs and cream (you'd be fine using regular or nondairy milk for a lighter option); and you're just one sleep away from a delicious and hearty meal. (And yes, of course you can omit the sausage.)
25. Cheesy Spinach Baked Eggs
Fried eggs are great, but how about baking a whole egg in a muffin tin or ramekin with veggies and cheese, using a lot less oil? A batch of these babies will feed the whole family for breakfast and make Monday feel like Friday. (Yes, you're a star and they appreciate everything you do.)
Vegan breakfasts
26. Chocolate Quinoa Breakfast Bowl
Here's a yummy vegan way to have chocolate for breakfast. A bowlful of quinoa cooked in almond milk and flavored with cocoa and maple syrup makes for a flavorful, filling, protein-rich base. Top with banana, berries, and vegan dark chocolate (read the label — some brands of chocolate use milk products).
27. Warm Fruit Bowl
Craving dessert for breakfast? Or breakfast for dessert? This gluten-free, vegan bowl should hit the spot. Simply bake a blend of berries in the oven until soft, remove from the oven, and sprinkle with shaved vegan dark chocolate (it'll melt into the warm fruit) and crunchy toasted coconut.
Serve in bowls with warm or cold nut milk.
28. Vegan Blueberry Flax Breakfast Muffins
These hearty, wholesome, and not-too-sweet muffins make the perfect portable breakfast. Flaxseeds provide a healthy dose of fiber and omega-3 fatty acids. Mashed banana (one of our favorite healthy baking substitutions) allows for a slight reduction in the added fat and sugar, too.
29. Chocolate Peanut Butter Granola Apple Bites
This is a perfect pick for apple season. Cut your favorite kind of apple into wedges and scoop nut butter onto each slice. Sprinkle with oats or granola and cinnamon and drizzle a bit of melted chocolate on top.
Quick Healthy Breakfast On The Go Ideas
Sometimes winter is chilly, and sometimes it's downright cold. But a hot soup is good for the cold. While we're no strangers to the canned variety, these recipes for healthy winter soups take it up a nutritional notch with everything from cauliflower to fresh kale to roasted red pepper.
Check out these 25 healthy winter soup recipes to thaw your chilled bones and keep you satisfied during a long winter's night.
Best healthy winter soups
Slow cooker Italian chicken, quinoa, and vegetable soup
Turmeric tomato soup
Mediterranean kale, cannellini, and farro stew
Tomato and vegetable white bean soup
Lentil vegetable soup
Cauliflower roasted red pepper soup
Nine vegetable hot and sour soup
Butternut squash apple soup with sage Parmesan croutons
Vegan split pea soup
Chicken tortilla soup
Dairy-free broccoli soup
Moroccan-inspired chickpea stew
Pizza soup
Easy slow cooker white chicken chili
Curried pumpkin soup with maple-ginger caramelized onions
Pressure cooker wild rice mushroom soup
Creamy roasted vegetable soup
Stuffed pepper soup
Seafood chowder
Slow cooker black bean and kielbasa soup
Chard and white bean stew
1. Slow cooker Italian chicken, quinoa, and vegetable soup
Load up your slow cooker the night before, hit start in the morning, and thank yourself at dinnertime. Chicken, veggies, and a few red pepper flakes to give this one a kick.
Three of our favorites come together in one bowl: turmeric, apple cider vinegar, and coconut oil. It's a nutrient-dense bowl to reach for when the going gets tough and the tough get sniffly.
3. Mediterranean kale, cannellini, and farro stew
Living that Pop-Tart breakfast, vending machine lunch lifestyle? You need this one-pot wonder in your life. It covers all your nutritional bases with kale, cannellini beans, farro, carrots, and celery.
4. Tomato and vegetable white bean soup
Vegan and gluten-free, this soup is a cornucopia of veggies with protein on top. Add a baguette if you want to know true joy.
This recipe has about zero steps (OK, two), but it takes 2 hours to make, so save it for slow Sundays. You'll actually feel productive and can enjoy leftovers throughout the week.
Get the easy-peasy recipe here.
6. Cauliflower roasted red pepper soup
Ever look at a cauliflower and think, "I wish this was a soup"? You will now and forevermore. In addition to enjoying the combo of this cruciferous veggie's milder taste with red pepper's spicier flavor, you'll load up on cauliflower and red bell peppers' mutual high vitamin C content.
This simple soup uses chicken broth, but for a vegan option, you can use veggie broth.
7. Nine vegetable hot and sour soup
This is a recipe for those admirable "this year I'm going to nourish myself better" goals. Nine veggies, half an hour on the stove, and enough goodness for a change of pace after all those heavier holiday meals.
Get this Asian-inspired veggie soup recipe here.
8. Butternut squash apple soup with sage Parmesan croutons
Fruits and veggies in a single soup? You're welcome. This creamy puree combines tender butternut squash cubes with sweet-tart apples for a nutritional one-two punch. Optional sage Parmesan croutons on top are the garnish you never knew you needed.
We get it if split pea soup sounds like something you reluctantly ate in a grade-school cafeteria. But before you turn up your nose at the entire split pea category, check out this intensely flavorful, super-filling soup.
Hearty, high fiber split peas meld seamlessly with warming spices like paprika, oregano, and thyme for a finished product that's irresistible (and totally not like school lunch).
Find your new favorite split pea soup here.
10. Chicken tortilla soup
Whether it's Taco Tuesday or just a random Thursday, there's no bad time to enjoy Mexican-inspired flavors. How about putting 'em in a soup for a liquid fiesta of spice? With chicken, black beans, and veggies, this soup is a one-dish meal that needs no accoutrements — except maybe tortilla chips on top.
11. Dairy-free broccoli soup
If you're living a dairy-free lifestyle, you may have said a fond farewell to broccoli cheese soup. But great news: A rich, savory, cheese-like version of this classic is possible without cow's milk. This recipe re-creates the creaminess you crave with soaked cashews, almond milk, and nutritional yeast.
Get the recipe for DF broccoli soup here.
12. Moroccan-inspired chickpea stew
We'd never throw shade at hummus, but chickpeas aren't just a base for creamy dips. They're also a fiber-packed, iron-rich choice for the centerpiece of a stew, as in this Moroccan-inspired main dish.
Served over quinoa, it's a vegetarian meal loaded with complete protein (the kind that includes all the essential amino acids, which your body can't make on its own and has to get from food).
Make it tonight!
13. Pizza soup
Hold up — pizza as a soup? Call off the search for the perfect comfort food. This gluten-free, keto-friendly soup combines some of the world's greatest food inventions.
A hefty helping of veggies like mushrooms and peppers rounds things out with fiber and potassium while low sodium beef broth helps keep the salt content in check.
Create a pizza-soup combo here.
14. Easy slow cooker white chicken chili
Having soup for dinner can sometimes leave you hungry an hour later. Not so with this healthy slow cooker white chicken chili! The ample protein from chicken, beans, and quinoa will stick to your ribs.
15. Curried pumpkin soup with maple-ginger caramelized onions
When days shorten and leaves begin to fall, it's time for pumpkin everything, including soup! There's a good reason for crushing on the fall gourds — they're full of fiber and vitamin A. This recipe takes the pumpkin soup genre to new heights with unique maple-ginger caramelized onions.
16. Instant Pot wild rice mushroom soup
Ah, the Instant Pot: friend to time-crunched cooks everywhere. Its speedy magic makes quick work of cooking a wild rice-mushroom blend in this easy vegan recipe. Dairy-free cream cheese ups the ante on creamy texture.
17. Creamy roasted vegetable soup
Show your leftovers some love with this innovative take on veggie soup. Using roasted veggies you didn't finish the previous night, you can create an entire second meal — a velvety, satisfying meal, at that! Did we mention it takes just 15 minutes to throw together?
Love on your leftovers with the recipe.
Stuffed peppers are a dreamy dinner, but let's face it — they're a slog to make. Shortcut your way to their piquant flavor with this savory soup.
With fresh bell peppers, lean ground beef, and long-grain rice, it features all the signature stuffed pepper ingredients but takes far less time and effort. Plus, it's low in calories and high in protein. Make it a day or so in advance to let the flavors deepen even more.
Allow us to introduce you to this lighter-than-usual chowder (or should we say "lightah chowdah"?).
A mixture of cod and shrimp provides ample omega-3 fatty acids — the kind that could reduce the risk of heart disease, among other benefits. Wanna scale back the calories and fat even more? Try half-and-half in place of the heavy whipping cream.
20. Slow cooker black bean and kielbasa soup
One nutrient that you might not think much about — but that's responsible for all sorts of important functions, like lowering blood pressure and preventing kidney stones — is potassium.
It can be tough to reach your daily target (3,400 milligrams for men and 2,600 milligrams for women), but this black bean and kielbasa soup delivers more than 1,200 milligrams per serving.
With precooked sausage, jarred salsa, and a few diced veggies tossed in the slow cooker, this one's the definition of "fix and forget." If you don't have time to soak dried black beans overnight, never fear: You can use canned ones.
21. Chard and white bean stew
What to do with a whole pound of chard? Make a soup, of course! This chard and white bean stew practically busts out of the pot with antioxidant-rich veggies, including greens, carrots, celery, and tomatoes. An optional poached egg on top adds more than flair — each eggy addition comes with 6 extra grams of protein.
Make it here.
22. West African-inspired peanut stew with chicken
Believe it or not, this West African-inspired stew comes together with common pantry staples. Chicken thighs, sweet potatoes, tomatoes, peanut butter, and familiar spices combine forces to make a classic right in your home kitchen. To keep it vegetarian, you can replace the chicken with chickpeas.
A bowl of warming potato leek soup is the perfect antidote to the brrr of chilly evenings. Greek yogurt dials back the calorie and fat content (and boosts the protein) in this lighter version of the well-loved soup.
Red lentil dahl makes a hearty vegetarian curry — and an unforgettable soup. Turn the traditional Indian dish into something more sippable with this nourishing plant-based recipe. Don't skip the whole mustard and cumin seeds! They're key to amping up flavor.
Healthy Breakfast On The Go Ideas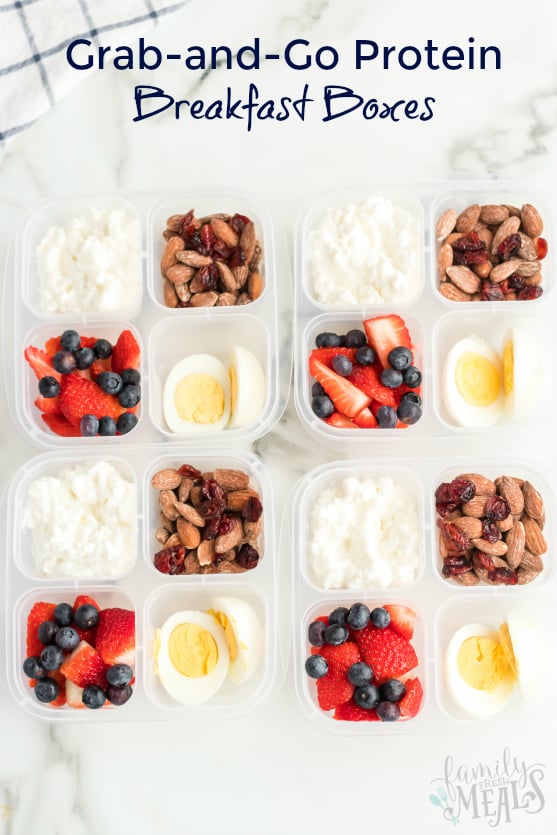 Soup is hydrating Soup's liquid base contributes to your daily hydration — and that's almost always a good thing. Getting dehydrated can lead to a bunch of unpleasant issues, including chapped lips, constipation, fatigue, dizziness, and headaches. Since a bowl of soup can help ward off these symptoms, we say slurp away.
Soup is an easy way to eat nutrients
By choosing nutrient-dense ingredients, you can ensure that soup is more than just hydrating. In fact, it's a perfect canvas for foods high in fiber, protein, healthy fats, and critical micronutrients.
Beans and lentils, lean meats, whole grains, olive oil, and veggies easily slip into soup, making it a hearty, nutrient-rich meal. Meanwhile, ingredients you can't easily put into the pot, you can usually use as a topping! Think: avocado, Greek yogurt, nuts, and seeds.
What to eat in moderation
Depending on your dietary needs and goals, you might want to keep tabs on a couple of nutrients in soup: sodium and fat. Most commercially prepared broths come with high amounts of sodium. And creamy soups, which usually include butter and heavy cream, are notorious for their higher-than-usual saturated fat content.
As you cook soup at home, keep an eye on the nutrition labels of ingredients you toss in your pot to make sure you're crafting a bowl of nourishment. And always feel free to make modifications like:
opting for lower-sodium versions of broth, canned beans, and canned tomatoes
trying Greek yogurt or cottage cheese in place of heavy cream or sour cream
using lean proteins such as grilled chicken, ground turkey, and baked tofu
replacing fried toppings like tortilla chips with crunchy pumpkin or sunflower seedsg