Healthy brown bag lunches for weight loss can be done. You don't have to give up your favorite sandwhich and chips or boring up your lunch with another sad tuna salad.
It can be difficult to find quick healthy lunch ideas before work or school. The goal is to get yourself something you can eat on the go without getting anything too messy. The following is a roundup of my favorite healthy brown bag lunches for weight loss.
Healthy Brown Bag Lunches For Weight Loss
Brown bagging it to work every day can get challenging when trying to be creative, make healthy choices, and add some spice to the daily work lunch. Here are some healthy lunch choices, some can be made the night before to save time in the morning when you are trying to get the kids and yourself out the door!
Wraps made with whole wheat tortillas, containing either lean cold cuts or lowfat cream cheese topped with veggie slices. Even the classic PB and J (peanut butter and jelly) is healthier in a wheat wrap.
Single portion-sized cups of unsweetened apple sauce or fruit without added sugar.
Trail mix made with cereals, nuts, pretzels, dried fruit or raisins, and a few chocolate morsels.
Low fat cheese spread on whole wheat crackers.
Individual serving-sized packages of low fat yogurt, cottage cheese, or yogurt smoothies.
Baby carrots, celery sticks, or apple slices with dips made from yogurt or low fat sour cream.
Mini-burritos made with rice and black beans or refried beans in a tortilla with tomato salsa. These can be heated or eaten cold.
Baked chips or pretzels are a better choice than high-fat potato chips or cheese snacks.
Drinks made from water with a splash of cranberry, peach, grape, or other fruit juice are healthier than sodas. Excess consumption of pure sugar-laden juices can increase the risk of obesity.
Whole grain bagels topped with cream cheese-vegetable spread.
Air-popped popcorn flavored with a sprinkling of Parmesan cheese.
Low fat cheese cubes and seedless grapes make a delicious side dish for sandwiches or wraps.
Cold strips of grilled chicken with honey mustard dip.
Dried cranberries or cherries are a sweet alternative to raisins.
Quesadilla slices made with cheese and chicken or vegetables.
Cheap and Healthy Brown-Bag Lunch Ideas (for Grownups)
Taking a healthy lunch to work is one of the simplest ways to trim your budget. Most people think nothing of spending $10 or so for a restaurant lunch, but over the course of a month — or a year — the expense can really add up.Beyond the cost savings, most meals packed at home are healthier than foods at restaurants. When we eat out, we're often faced with whopper portions and fattening extras — like the french fries that routinely come with sandwiches. But when you pack lunch at home, you can control your portions and choose healthier ingredients.

Still, unless you're willing to eat the same peanut butter sandwich day in and day out, it's easy to run out of ideas and fall back into the restaurant rut. So WebMD asked the experts to recommend healthy, creative lunch ideas that are not only cheap, but easy to prepare.
What Makes Up a Healthy Lunch?
First of all, make sure your lunch is balanced, experts recommend. Lunches that include some lean or low-fat protein along with carbohydrates will keep your body fueled for the afternoon, says Connie Diekman, RD, president of the American Dietetic Association.
"The combination of protein and fiber from whole grains, beans, nuts, vegetables and/or fruit will give you the most satisfying and nutritious combination of foods that will keep you feeling full until dinner," she says

If you love sandwiches, use a variety of whole-grain breads, pitas, and wraps. Choose lean fillings like sliced eggs, tuna fish, cheese or lean meats. Then jazz up your sandwiches with assorted greens, fresh basil, sprouts, sliced cucumbers, onions, and/or tomatoes.

But sandwiches are far from your only option when you're brown-bagging it. Last night's dinner, hard boiled eggs, vegetarian wraps, cereal — anything you enjoy at home can be packed up and eaten for lunch.

In fact, you might want to make extra food for dinner so you'll have leftovers to bring for lunch, experts suggest.

"Leftovers are the perfect food to pack and take for lunch because you can control the portions and calories in the meal to ensure it will be nutritious, filling and delicious," says Diekman.
For example, she suggests packing the leftovers of a black bean, brown rice and salsa dinner casserole, topped with shredded cheddar cheese, into a reusable container that can be microwaved at the office. Add some carrot, celery, and pepper strips for a hearty and satisfying lunch.To take this idea a bit further, try cooking in bulk. On the weekend, make a big pot of chili, soup, or rice and beans and freeze into individual portions that are ready to take to work in a flash.

Convenience foods can also make quick and easy lunches. Canned soups and frozen meals can be inexpensive, especially if you stock up when they're on sale, and all you have to do is grab one when you're running out the door. Pair these portion-controlled items with a side salad or piece of fruit to provide enough calories to keep you feeling full.
10 Easy Lunch Ideas
American Dietetic Association spokesperson Angela Ginn-Meadow, RD, says planning ahead is essential for quick lunch assembly. "A planned menu with all the ingredients in the kitchen will make it easy to put together tomorrow's lunch after dinner," she says.
She compiled this grocery list for a week's worth of lunches costing $5 or less a day (assuming you already have salad dressings on hand):Whole wheat pita bread

Romaine lettuce

2 tomatoes

1 cucumbe

1 bag baby carrots

1 bag of apples & oranges

1 can of light tuna in water

1 can of salmon (split for two meals)

1 prepared grilled chicken

3 cans of low-sodium, broth-based soup

With this list of foods, you can prepare:
1 pita with lettuce and grilled chicken with light Caesar dressing; baby carrots; and an apple.
Salmon lettuce wraps with light sesame Asian dressing; 1 can of broth-based soup; and an orange.
Tomato & cucumber salad with olive oil and vinegar; tuna salad on pita; baby carrots; and an apple.
1 can of soup; and grilled chicken on a bed of romaine with sliced apple and light vinaigrette.
Garden salad with salmon, tomato, cucumber, and baby carrots; an orange; and 1 can of soup.
Whole-wheat tortilla wrap of hummus, lettuce, sliced tomatoes, feta cheese and black olives; plus a carton of fat-free vanilla yogurt, and berries.
Whole wheat pita stuffed with vegetarian refried beans, salsa, lettuce and shredded cheddar cheese; and apple slices with peanut butter.
A green salad loaded with canned chunk light tuna, carrot strips, pepper slices, tomato wedges, red beans, and dried cranberries topped with balsamic vinaigrette; with a cup of low fat chocolate milk.
A peanut butter and banana sandwich on whole wheat bread; a piece of fresh fruit; and low fat yogurt.
Whole-wheat tortilla roll with sliced turkey, sliced low-fat mozzarella cheese, red pepper strips, and lettuce leaf (chill and slice into bite size pieces); with fruit salad and a glass of skim milk.
To save money on beverages, use the water cooler at work instead of buying bottled water or a soda from the vending machine. And bring coffee in a to-go mug instead of stopping at your favorite coffee shop. Got a sweet tooth after lunch? Have fruit, a few pieces of hard candy, or a few low-fat Graham crackers or vanilla wafers.
Keep Your Lunch Healthy and Safe
Don't forget: Lunches that include meat, fish, poultry, or dairy need to kept refrigerated. Toss your lunch in the refrigerator at work. If you don't have access to refrigeration, invest in a lunchbox, Thermos, reusable plastic containers, plastic baggies, and ice packs to keep your lunch at the proper temperature.
Healthy Brown Bag Lunches
HEALTHY BROWN BAG LUNCHES CAN CUT MAJOR CALORIES FROM YOUR DIET, WHICH CAN SHAVE INCHES OFF YOU. LEARN 7 THINGS YOU SHOULD PACK, AND 3 YOU SHOULDN'T.
Pritikin healthy brown bag lunches not only save you money, they save you loads of calories compared to typical lunch fare. Here's just one example. A Quizno's Tuna Melt Sandwich ratchets up a whopping 2,090 calories. Make your own tasty tuna sandwich Pritikin-style (see Tip #1 in this article) for fewer than 400 calories. Yes, you've just erased about 1,600 calories from your diet. Do that every day and you'd drop about 13 pounds in one month.
7 Things You Should Pack For A Healthy Lunch
Simple, Sensational Sandwiches
Put together a sandwich of tuna (canned – preferably low-sodium, light, and packed in water) with 1 tablespoon nonfat mayo or nonfat plain yogurt, chopped celery, and onions, topped with baby spinach or peppery arugula, on 100% whole-wheat bread.
Or get a great dose of heart-healthy omega 3s by combining salmon (canned, low-sodium) or strips of fresh grilled salmon from last night's dinner with cucumber, onion, and fresh dill. Stuff into a 100% whole-wheat pita.
Go juicy hamburger-style (and very healthy) with a veggie burger (choose lower-sodium varieties) topped with lettuce, slices of fresh tomato, and mustard in a whole-wheat bun.
Veggies, Veggies, Veggies
A veggie-packed lunch gives you lots of food, lots of nutrients, and zippo for calories compared to many other lunch choices. Here are healthy brown bag lunch ideas brimming with crunchy, colorful vegetables.
Fill a big bag of cut-up varieties that you can munch on all day long – baby carrots, celery, radishes, cherry tomatoes, and more. Spice them up, if you want, with a little bean dip. Make your own zesty, low-cal, and inexpensive Mexican-style dip by combining pinto beans, chopped red onion, fresh cilantro leaves, and lime juice in a food processor and blend.
For more veggie goodness, trade your brown bag for a small icebox, like an Igloo, and pack a HUGE salad, like Pritikin Longevity Center alums David and Kathy Heetland of Skokie, Illinois. The couple goes through a bag of greens for lunch a day PLUS, in their salads, diced sweet potatoes, yellow squash, red bell peppers, cucumbers, red cabbage, red onions, and more. Says David: "Pritikin showed us that all kinds of food can go into salads."
Three heaping cups of salad full of fresh veggies add up to a mere 100 calories.
But boy-oh-boy, don't let the word "salad" delude you into thinking that all salads are healthy. Three cups of salad with cheese, full-fat dressings, and bacon bits tally up 600 calories and more. The Taco Bell Fiesta Taco Salad packs 860 calories, 46 grams of total fat, 14 grams of which are saturated fat.
For salad dressings that are slimming, use vinegars, lemon juice, fresh salsas, or your own homemade combinations, like wasabi and rice vinegar, Dijon mustard and balsamic vinegar, or fat-free plain yogurt sassed up with a little horseradish.
Fruit Galore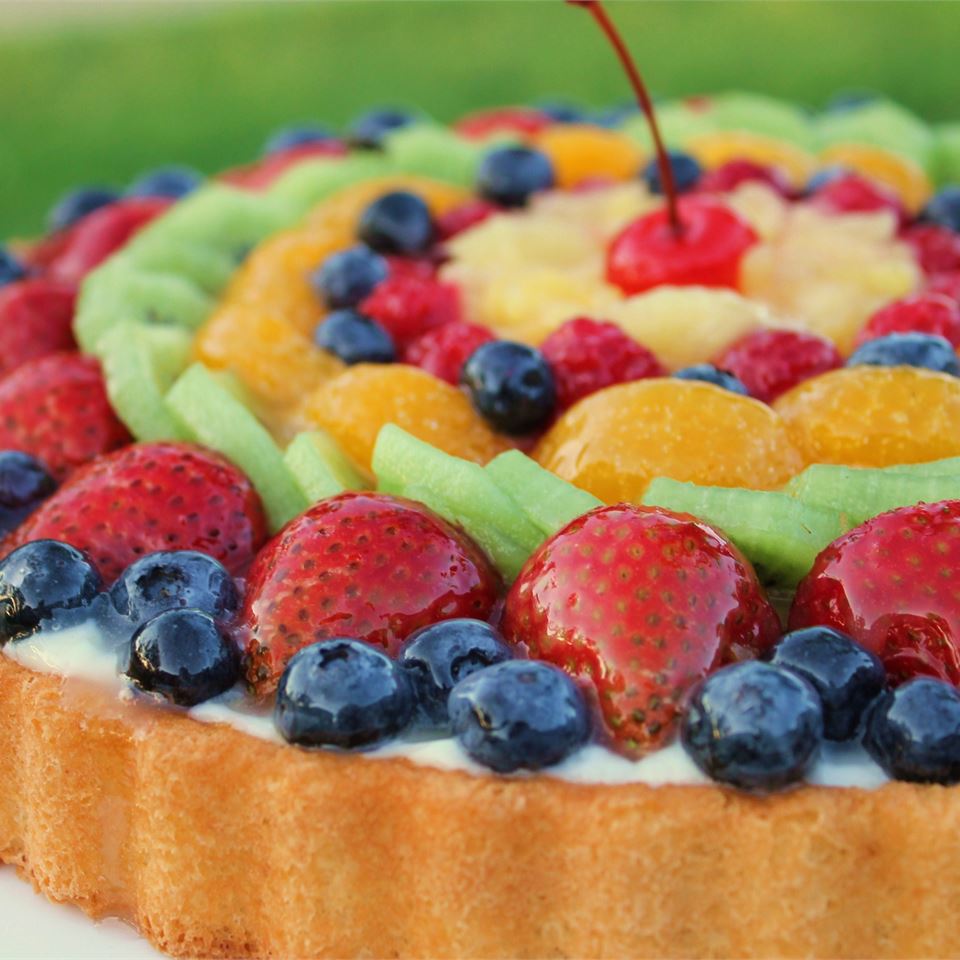 Like vegetables, fruits are fabulous weight-loss foods because they're "big" foods, that is, foods that are bulked up by lots of fiber and water. With "big" foods, you'll be eating a lot of food (which will satisfy your hunger) but not a lot of calories.
Here's a great example: For the same number of calories that are in a handful of peanuts (about two ounces), you can eat 2½pounds of strawberries (about five of those green boxes that strawberries come in.) Eating "big" foods like strawberries, salads, and other fruits and vegetables can prevent hunger from taking over and taking you places you don't want to go.
You can even turn fruit into a delicious sandwich. Combine fresh pineapple chunks with nonfat ricotta cheese. Smooth over a slice of whole-wheat toast. Delish!
Wrap It All Up
For "on the go" lunches, keep several types of greens and chopped veggies like carrots, onions, celery, and tomatoes in the fridge.
When you're ready to leave the house, just spread out a large whole-grain wrap. Lavash bread is a good choice too. Top with greens, veggies, and a little balsamic vinegar or low-cal, low-sodium salad dressing. If you have leftovers like roasted chicken, crabmeat, or turkey breast, add them. Sprinkle with freshly ground black pepper. Roll the wrap up, and you're out the door with a big, tasty lunch the size of a small football.
Thermos Magic
Soup or vegetarian/bean chili made the night before often tastes even better the next day. To keep hot entrees hot, use an insulated wide-mouth thermos.
In several studies at Penn State University, scientists found that people who ate veggie- and grain-rich soups and stews tended to eat significantly fewer calories overall by day's end than people who didn't.
South of the Border
It's scary how much belt-busting trouble you can get into at many Mexican restaurants. One cheese enchilada at On the Border Restaurant, Nutrition Action newsletter recently reported, tallies up 1,600 calories and 53 grams of saturated fat. Yes, 53 grams! Think of it as 20 pats of butter.
Take in a fraction of calories (only about 200) and absolutely no sat fat by making your own Mexican-style bowl of corn, black beans, and salsa. Simply combine 1 can of black beans (rinsed and drained), 2 cups of frozen no-salt-added corn kernels (thawed), and 1 cup of fresh salsa.
Baked Potatoes, Sweet Potatoes, Corn – Warm, Yummy, and Very Filling
Think outside the sandwich. A big baked potato topped with a calorie-light dressing like nonfat plain yogurt, mustard, salsa, or nonfat sour cream weighs in at just 300 to 350 calories.
Enjoy the rich flavor of sweet potatoes? While home on Sundays, cook up a batch. Wrap each one in foil and bake for about an hour at 425 degrees F, or until their luscious, sweet juices start to ooze out into the foil. At work the following week, just pop one in the microwave for a quick warm-up. They're loaded with taste, and they don't need any extra toppings. Best of all, they REALLY fill you up.
Craving corn on the cob? Easy! Just microwave it, husk and all, for three to five minutes.