Buffalo turkey meatballs are perfect for weeknight meals, appetizers or snacking! You won't believe how simple these are to make and how much flavor is packed inside! Naturally gluten free, dairy free, paleo, Whole30 and low carb, these meatballs are perfect for just about any crowd!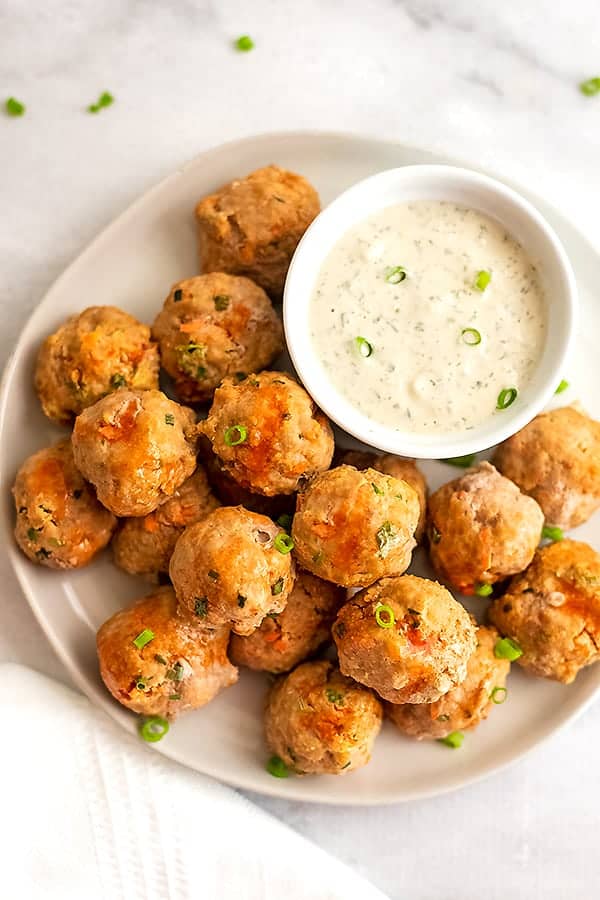 WHY YOU WILL LOVE THIS RECIPE
If you love buffalo wings, you are going to love these buffalo turkey meatballs! Dip them in your favorite dressing (ranch or blue cheese) for a fun boneless take on your favorite appetizer!
These buffalo turkey meatballs are baked, not fried, which gives you the ability to make a large batch at once so you can feed a crowd or make extra for meal prep!
Naturally grain free and egg free, these turkey meatballs are actually packed with veggies too! These meatballs have grated celery and carrots inside, helping keep the meatballs juicy during baking
INGREDIENTS
Ground turkey
Celery
Carrots
Green onion (or scallions)
Dried chives
Salt
Almond flour
Hot sauce
Avocado oil
INSTRUCTIONS
Preheat the oven to 400F
Chop the carrots and celery into one inch pieces and pulse in a food processor to quickly mince/shred into small pieces.
Chop the green onions and add all the veggies to a large bowl.
Add the dried chives, salt and almond flour to the bowl with the vegetables and stir well.
To the vegetable mixture add the ground turkey and hot sauce and stir well making sure the veggie mixture and hot sauce get well distributed.
Place parchment paper or a silicone liner down on a baking sheet.
Form meatballs by scooping about 1.5-2 tablespoons worth of the meat mixture into your hand and forming a ball. Place on the parchment paper lined baking sheet. Makes about 40 meatballs
Place meatballs in the 400F oven for 15 minutes.
After baking for 15 minutes, remove the turkey meatballs from the oven.
Combine 2-4 tbsp hot sauce with 1 tbsp avocado oil and pour over buffalo turkey meatballs
TOP TIPS
To ensure that the turkey meatballs are moist and tender on the inside, you will want to use turkey meat that has a little more fat in it (93% lean).  The chopped veggies inside do add some moisture to the meatballs so if all you can find Is 99% lean, that is ok, just know that they might be a little drier than the 93%.
To easily chop veggies, you will want to use a food processor. I use the food processor attachment that came with my immersion blender, but a regular food processor would work as well. IF you don't have a food processor, chop the celery by hand and grate the carrots with a hand grater.
WHAT YOU NEED TO MAKE THIS
Extra large baking sheet
Parchment paper
Mini food processor or food processor
HOW TO SERVE
These buffalo turkey meatballs are great as an appetizer or part of a meal! Be sure to make a batch of homemade ranch dressing for dipping or drizzling on top! Here are some great ideas on how to serve the buffalo turkey meatballs:
Over salad
With rice, pasta, quinoa or cauliflower rice (drizzled with ranch)
With roasted veggies (for a low carb meal)
With sweet potato fries, carrot fries, or regular fries
With sweet potato tots or broccoli tots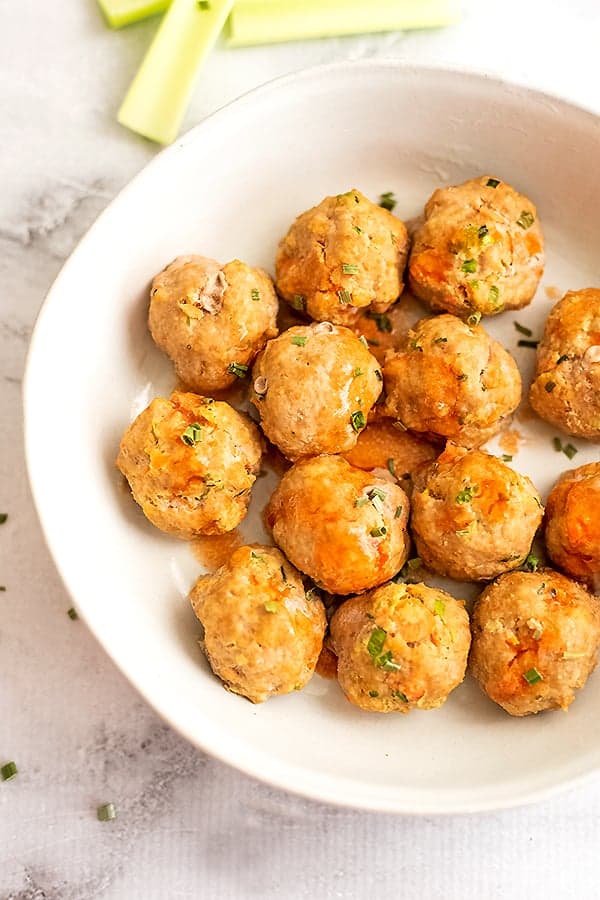 STORAGE
Refrigerator: Store these buffalo turkey meatballs in the fridge for up to 3 days in a well-sealed container.
Freezer: Store the cooked meatballs in the freezer for up to 2 months. Tip: let the meatballs cool completely before placing them on a wax paper lined tray to freeze (so they don't stick together). Once frozen, transfer the meatballs to a freezer safe bag or container.
Defrost in the fridge overnight or place directly in the oven or air fryer to reheat.
SUBSTITUTIONS
Ground turkey: You can also use ground chicken or even ground beef in place of the ground turkey.
Almond flour: If you cannot use almond flour, you could substitute it with oat flour or you can make your own sunflower seed or pumpkin seed flour by grinding up sunflower seeds or pumpkin seeds in a food processor until they resemble flour.
RECIPE VIDEO