Finding healthy lunch ideas in a city like Singapore can be quite the challenge, especially if you're looking to avoid fast food. However, with a few strategic tips and tricks, finding healthy lunch ideas in Singapore is easy!
Lunch time is the best time of the day because it's the time you get to break from work and relax for about an hour. If you're stuck in a rut for lunch ideas, take these tips from me. I'll share some of best healthy alternatives for lunch.
Healthy Lunch Ideas Singapore
From poke bowls and grain bowls to sexy salads and gluten-free meals, there are plenty of healthy lunch options to choose from in Singapore; but do they taste any good? For a nutritious yet satisfying meal, these are the places to go.
The Daily Cut
You can't go wrong with this grain bowl stalwart. Fill up a simple form to build your own bowl of items made up of only fresh, seasonal ingredients. Their glazed root vegetables, skirt steak and range of sauces are guaranteed hits, plus you can find them in several CBD locations, so an outlet is never too far away.
Dosirak
Offering bibimbap but customisable, healthy and low in calories, Dosirak also stands out for catering to an audience that appreciates handsome packaging to go along with their grain bowls. Complete your meal with equally Korean drinks like Buckwheat Tea and a hearty kimchi soup.
Grain Traders
This grain bowls place serves signature bowls alongside a mix-and-match option, with a variety of proteins, veggies, sauces and toppings. Try the El Hibaro (striploin, salsa verde, wafu tomato) if you're in a hurry to decide. But if you're like us, customising your own bowl is part of the fun.
Haakon
Whether you're going vegan, paleo, gluten-free, high-protein or low-carb, there's bound to be something for you here. Be sure to try Haakon's Acai Superfood bowls for a real boost, and the ones containing zero-calorie shirataki noodles for all the satisfaction without the gains. They've got locations in Orchard, One Raffles Place, Holland Village and Tanjong Katong.
Heybo
From salad and wrap chain SaladStop! comes a new grain bowl spot, Heybo. Situated at Republic Plaza, the signature bowls (or what they dub "bo"s) include Shibuya Nights, obviously inspired by Japanese cuisine, and Kampong Table, which incorporates local flavours.
Jamie's Italian
Eating healthy doesn't have to mean eating like an ascetic. Celeb chef Jamie Oliver has been famous for his simple, honest, unadulterated cooking and the dishes at his two Singapore branches promise wholesome big flavors without the overuse of sodium.
Kitchen by Food Rebel
This organic CBD spot offers lots of gluten- and dairy-free options among internationally influenced dishes like barramundi with Asian greens and a chili padi chicken sandwich. They do an organic French wine happy hour too. What's not to like?
Kraftwich by Swissbake
There's nothing quite like a sandwich to power through your afternoon. Here, a hearty selection of handcrafted sandwiches with fillings like smoked salmon, Thai spicy chicken and beef pastrami are all packed with nutritious ingredients like wheat, sunflower seeds and flax, making it perfect for those who are looking for a healthier yet delicious choice.
The Marmalade Pantry
With branches in the CBD, Orchard and Novena, this is a great spot for a bistro-style lunch. Try their hearty, healthy salads, like the Grilled Salmon & Roasted Potatoes with carrots, fine beans and served with mustard cream sauce, or the Mexican Chicken salad with crispy tortilla, avocado, spiced corn salsa, crème fraiche and romaine lettuce. For cheat day, don't miss the minute steak sandwich and their always-popular cupcakes.
Plentyfull
Dishes here are prepared from scratch, using preservative-free ingredients, many sourced directly from local producers. It's a point-and-order system at lunch, and a la carte at dinner. The menu changes, but expect items like Thai-roasted chicken with red cabbage salad and vegetable dips.
Poke Theory
There are tons of poke places now, but we are in love with the perky and balanced bowls at A Poke Theory. Choose a base like sushi rice and lemon herb quinoa, pile it with raw fish like shoyu tuna and jazz up your bowl with nori flakes, tobiko and other touches. They have several branches too, including at Telok Ayer, Marina One, Bugis and even Kent Ridge.
The Populus Coffee & Food Co.
Some days, you just want to enjoy a hearty lunch at a laidback cafe while still keeping within your calorie count. On those occasions, your best bet will be to head to The Populus Coffee & Food Co., where a wide variety of Asian fusion salad bowls await. Aside from the Beef 'Bulgogi' & Quinoa boasting grass-fed slow cooked beef and salad grain mix, try the Poached Chicken Summer Ramen that offers organic ramen, chicken thigh and lemon soy dressing. There's even the Roasted Cod & Soba for those who prefer something more light and refreshing.
Real Food
This vegan cafe has outlets at South Beach, Orchard and Novena. Try the rosemary and garlic hash brown; pasta with oil of oregano, veggie balls made out of beet and chickpea, and the barley mushroom burger. Be sure to ask for their homemade chili; it will make you rethink how condiments should be like.
The Salad Shop
Despite its name, The Salad Shop isn't just a place you head to in an attempt to correct a previous day's binge. 'Cause while the options here are definitely guilt-free and nutritious, they are flavourful and worthy of multiple visits too. Just head down to the CBD to assemble a wholesome lunch bowl with eats like the Cauliflower Curry Turmeric, Thai Papaya & Mango Salad, Egg-White Spinach and more.
Shake Farm
With a name like that, you know you're gonna get all the shakes you could possibly want here. You got protein ones for post-gym, breakfast ones for your morning perk-me-up, detox options after a weekend of hard partying, and more. But feel free to come here for a meal too, where grain bowls, salads, acai bowls and pita pockets await.
Supergreek
Boasting some of the tastiest protein bowls you might find in City Hall, expect clean, low-calorie eats (all below 600kcals) that remain large enough to fill you up. A total of eight nourishing souvlaki grain bowls are offered, which are available in a pita wrap or salad option too, if that's what you prefer. Try the Roasted Barramundi, and grab an order of The Greek Classic too, which is a thick, homemade Greek yoghurt that's lower in sugar and carbs than conventional Greek yoghurt options.
Wheat Baumkuchen
Craving for grain bowls but with an Asian twist? At Wheat, get salad sets, brown rice and soba noodles (that are all healthier carbo alternatives to white rice and pasta) paired with a wide variety of ingredients like teriyaki chicken, striploin steak, runny lava egg and lots more.
YOLO
Resist the urge to indulge in all the high-calorie eats at Tanjong Pagar, and head straight to Icon Village to find YOLO, that delivers hearty but wholesome alternatives to your usual comfort foods. There's the Basil Minced Chicken with Brown Rice & Egg, that's dairy-free and just 580 kcals; as well as the Cauliflower Rice with Herb Chicken, at just 320 kcals. They've got outlets outside the CBD too, one at Star Vista and another at Changi Business Park.
. Airfried Cajun Salmon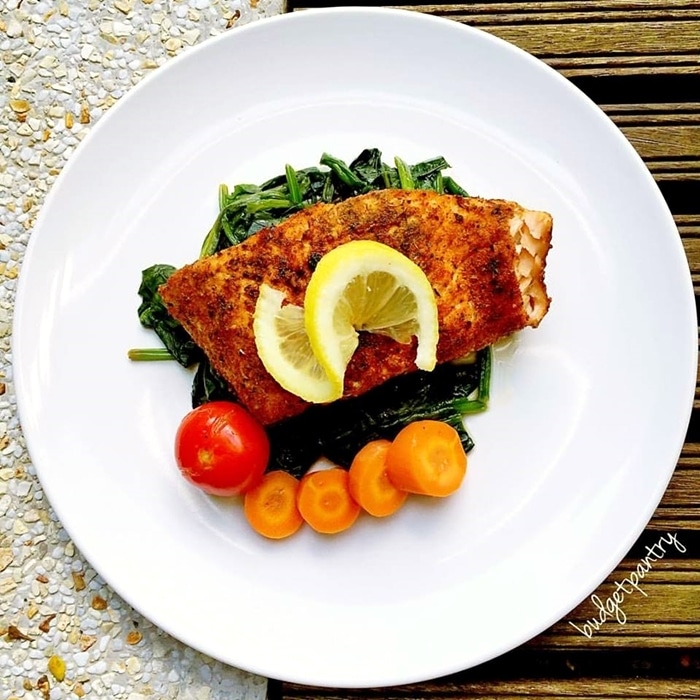 I love salmon! I simply rub it with cajun seasoning and airfry for 7 minutes. Add a variety of vegetables to fill you up. Here, I have blanched Chinese spinach (puay leng), cherry tomatoes and carrots. To not overcook the salmon (by microwave heating from chilled), I only airfry it in the morning before I leave for work. You can leave the airfryer on while you take your shower! Recipe for Cajun Salmon: https://budgetpantry.com/airfried-cajun-salmon/
. Mesclun Salad with Shabu Shabu Pork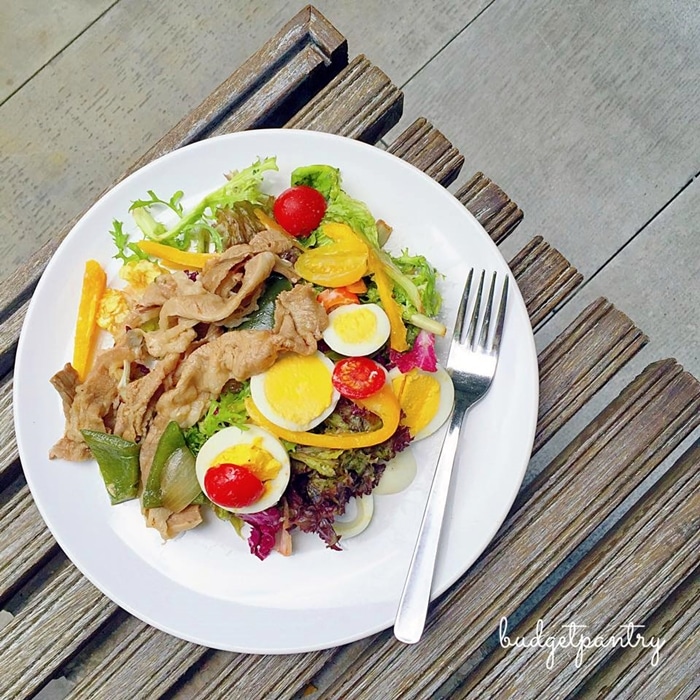 I usually get a huge packet of Mesclun salad mix and use it to prepare the husband's breakfast and my lunchbox, and when the aunt is in the mood for fresh greens, I prepare portions of it for her as well. One pack of 500g can last us at least six portions, but plan carefully and use them up in 2 days! I added a hard boiled egg, yellow peppers and Shabu Shabu pork slices, prepared the same way as my sister-in-law's Stir Fried Beef with Bell Peppers recipe (I only used a different type of meat): https://budgetpantry.com/stir-fried-beef-with-bell-peppers/ The best part? You don't need to heat this up! I skip the dressing whenever I prepare this as the pork is already very flavourful.
Grilled Cauliflower Steaks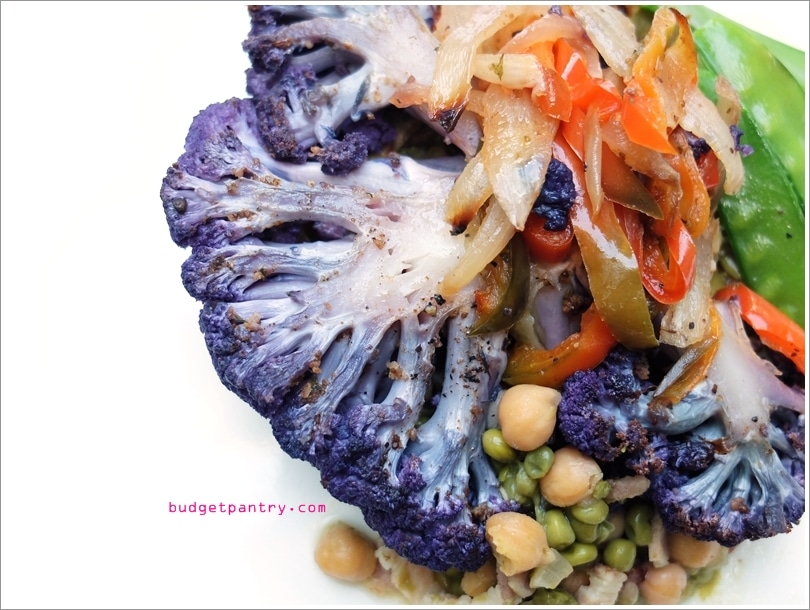 Mmmm.. this I grill the night before because you really need to give the cauliflower time in the oven to cook till it achieves a delicious nutty flavour. Slice the cauliflower down the middle, then slice again to get 2-3 one-inch steaks. I served this with Bacon and Peas, onions and blanched snow peas. Recipe for grilled caulifower: https://budgetpantry.com/grilled-cauliflower-steaks/
. Tuna and Kale Stuffed Peppers

Grilled peppers! This is one of my favourite things to cook because it is so easy. I first stir fry kale leaves in some garlic oil, and add in tuna in brine to mix. Season with a bit of black pepper and spoon the mixture into bell pepper cups before baking or airfrying. You can also use Chilli Tuna. I really love Chilli Tuna (I use Ayam Brand). I like to have it with cherry tomatoes and blanched broccoli, but of course, any other vegetable sides would be great.
Tofu "Pasta"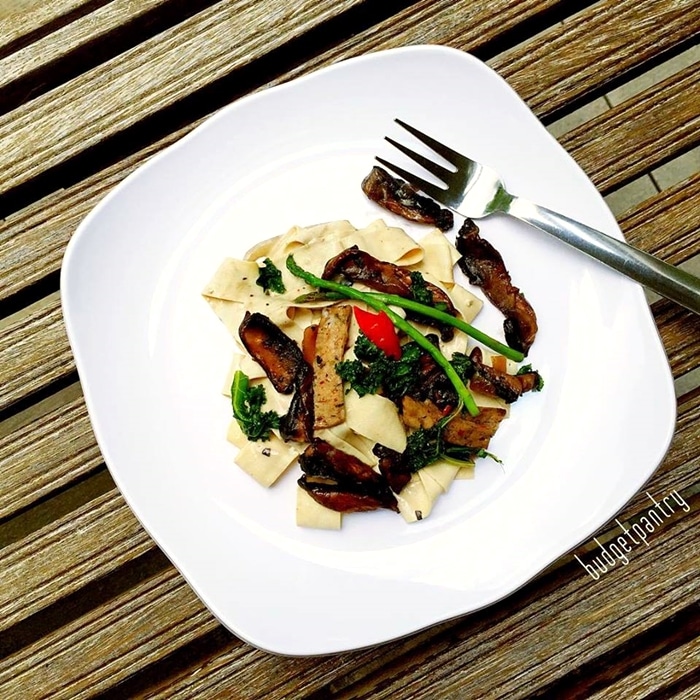 Pasta! Ok not really but these tofu sheets are a nice substitute. They don't give you the savoury feel of pasta – they're light and slightly chewy, but they do fill me up. I like to have them with sliced chicken breast, mushrooms and asparagus. You can have them with bolognese (minced meat in tomato sauce) for your pasta fix without the carbs! Here's a variation in light cream sauce that I cooked a while ago: https://budgetpantry.com/tofu-pasta/
Open Face Sandwiches

Yes I eat bread! Open face sandwiches like the one here are my favourites. I like to slather on some cream cheese (I use full fat Laughing Cow cream cheese – no point if you eat light cream cheese!), top my sandwiches with a sunny-side up along with grilled peppers and mushrooms. I also often make roast chicken sandwiches using individually quick frozen (IQF) chicken fillets from Lebon which I get from Giant.
. Grilled Eggplant with Egg and Chilli Tuna

Eggplant! I LOVE eggplants! They fill you up and are very low in calories, only about 25kcal per 100g. I've made so many versions of these I've lost count. Start with grilling some eggplants as a base, then top with whatever you like. I find that tuna works really well and I especially love Ayam Brand's Chilli Tuna with my melty eggplants. I fry the tuna with egg sometimes and I also top them with mozzarella cheese. Add chicken, tomatoes and greens for a full meal. Recipe: https://budgetpantry.com/grilled-eggplant-tuna-cheese/
 Stir Fry Vegetables and Brown Rice Vermicelli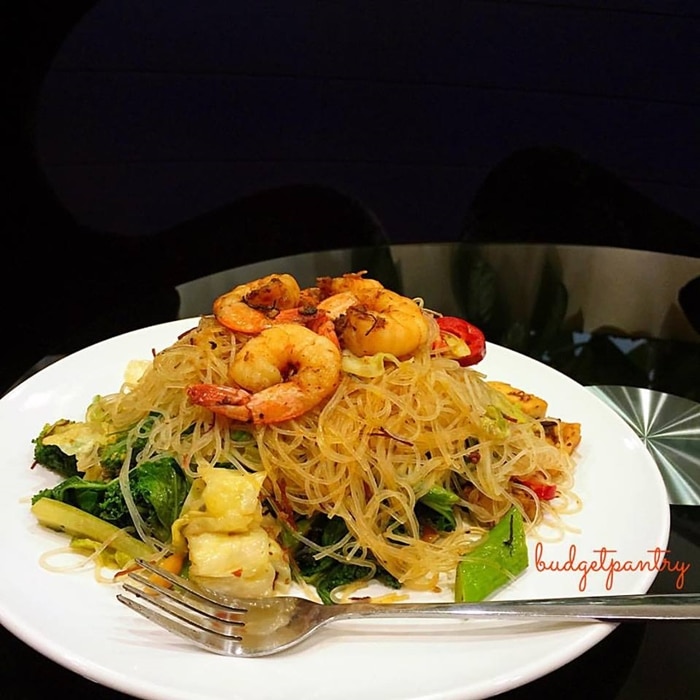 This is for days when I don't know what to cook and I have an entire drawer of vegetables. Make a vegetable stir fry! All you need to do is chop up whatever vegetables you want and wash them free of pesticides (I use an organic fruit and vegetable wash), defrost some meat or prawns and soak brown rice vermicelli till just turning soft. Heat up your wok and fry garlic, meat and vegetables till done then add some XO sauce. Add the vermicelli last. And you have a whole box of goodness! In this picture, I have heaps of celery, kale, sweet peas, peppers and cabbage underneath the vermicelli.
Omelette anything!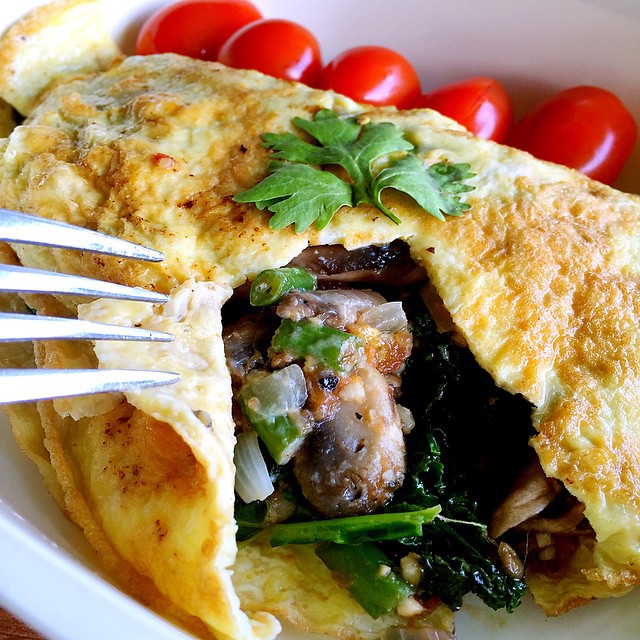 Make a hearty omelette with two eggs and anything you want! I like to stuff my omelette with leafy greens, mushrooms and cheese. I don't particularly LOVE kale, but they're good for me so stuffing them in omelettes is a REALLY good idea. Crack two eggs in a bowl, add some milk and beat till fluffy. Heat up your pan with some oil, pour in the eggs and wait till just slightly set. Spoon the pre-fried ingredients on top (veggies, onions and mushrooms) and add cheese slices or mozzarella. I also like to cook cheese scrambled eggs with chopped tomatoes, edamame and truffle salt. Effortlessly good!
Stuffed Portobello Mushrooms and everything else!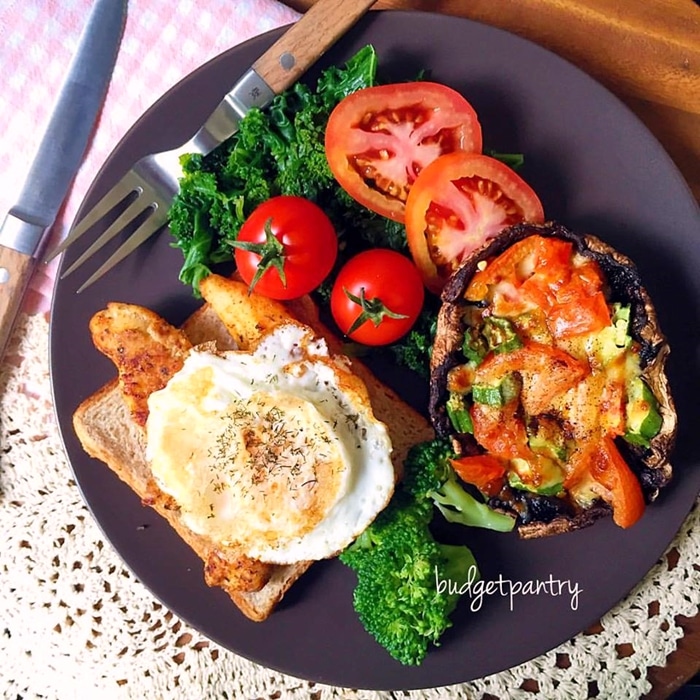 On days that I can afford more indulgence (of time!), I prepare a "big breakfast" kind of lunch. Airfry a Portobello mushroom stuffed with goodies like okra, bacon and cheese (https://budgetpantry.com/stuffed-portobello-mushrooms/) and have it with tomatoes, leafy greens and even an open face chicken sandwich with egg.