Looking for healthy quick lunch box ideas? Put milk and honey, caramel ice cream topping, or fruit sauce on a roll.
Are you already sick of your boring, same-old lunches? If the answer is yes, then this article is for you. You'll be pleased to read about some healthy quick lunch box ideas that will make your lunch breaks more fun and exciting.
Healthy Quick Lunch Box Ideas
We've created super quick and easy lunchbox ideas, along with healthy lunches for work. Everything from protein-rich boxes to vegetarian lunchbox ideas.
Smoky mackerel and beans lunchbox
Tip a tin of cannellini beans into a sieve.
Rinse with cold water then leave to drain.
Whisk 2 tbsp olive oil, 1 tbsp white wine vinegar and ½ tsp horseradish cream in a bowl and season.
Tip in the beans with 2 tbsp chopped flat-leaf parsley and ¼ finely chopped red onion and toss.
Divide between 2 lunchboxes then top each with a smoked mackerel fillet and a wedge of lemon.
---
Asian avo, prawns and greens lunchbox
Blanch 100g frozen peas, 100g frozen edamame beans and 100g chopped long-stemmed broccoli for 2 minutes, then rinse under cold water and drain.
Whisk 1 tbsp groundnut oil, 1 tbsp soy sauce and 1 tsp sesame oil in a bowl.
Add the greens with a small pack of cooked king prawns, 1 tbsp chopped pickled ginger, 1 finely chopped red chilli and ½ diced avocado.
Divide between 2 lunchboxes and sprinkle with black sesame seeds.
---
Protein-rich lunchbox
Boil 2 eggs for 7 minutes, adding 100g green beans for the final 2 minutes, then drain and rinse everything until cool.
Peel the eggs. Whisk 2 tbsp olive oil with 1 tbsp red wine vinegar and 1 tsp dijon mustard.
Add the beans, 1 pack of cooked puy lentils and 3 chopped spring onions and toss.
Divide between 2 lunch boxes and top with the eggs and a few slices of cooked chicken breast.
---
Hummus falafel lunchbox
Shred ¼ small red cabbage and toss with 1 tbsp lemon juice and a pinch of salt.
Grate 2 carrots.
Divide 4 tbsp hummus between two lunchboxes.
Add a few leaves of Little Gem and 3 falafels to each (try making your own falafel with our easy recipe) then add the carrots and cabbage.
Sprinkle with pumpkin seeds and pack small pittas separately for scooping.
---
Superfood salad lunchbox
Blanch 100g long stem broccoli and 50g peas in boiling salted water then rinse under cold water and drain.
Dice ¼ of a cucumber.
Tip 75g of pre-cooked quinoa into a bowl and add the veg. Whisk 1 tbsp olive oil with 2 tbsp lemon juice and season. Add to the bowl and toss everything together.
Add a handful each of mint and parsley and 50g crumbled feta. Tip into a lunchbox then sprinkle with 2 tsp toasted pumpkin seeds.
Per lunchbox: 433 kcals, fat 26.7g, saturates 9.3g, carbs 23.2g, fibre 10.1g, protein 19.8g, salt 2.8g
---
High-protein lunchbox with hot smoked salmon, avocado and egg
Drop a large egg into boiling water and simmer for 10 minutes then run under cold water until cooled.
Slice half a small avocado and break 75g hot smoked salmon fillet into pieces, discarding any skin.
Put a handful of watercress in your lunchbox then top with the egg, salmon and avocado.
Mix 2 tbsp natural yoghurt with 1 tbsp lemon juice and some chopped dill and keep in a mini jar or tub until you are ready to drizzle over and eat.
Per lunchbox: 441 kcals, fat 30.2g, saturates 8.4g, carbs 8.1g, fibre 3.7g, protein 32.4g, salt 1.6g
---
Low-calorie Asian lunchbox carrot and edamame
Peel 150g carrots then shred in a food processor or coarsely grate on a box grater.
Put in a bowl and add 75g blanched edamame beans and a finely chopped red chilli.
Whisk 1 tbsp rice wine vinegar with ½ tsp sesame oil. Add to the veg and toss together with a good pinch of salt.
Pack into a lunchbox and sprinkle with a pinch of black sesame seeds.
Per lunchbox: 250 kcals, fat 11.3g, saturates 1.7g, carbs 21.3g, fibre 11.2g, protein 10.2g, salt 0.8g
---
Low-calorie vegetarian lunchbox with smoky black bean and squash
Peel and chunk 150g butternut squash. Toss with 1 tsp olive oil, ½ tsp smoked paprika and ½ tsp cumin seeds. Roast at 180C/fan 160C/gas 4 for 15-20 minutes until tender. Cool.
Put 150g rinsed and drained black beans in a bowl. Add ¼ of a diced red pepper. Tip in the squash, a handful of chopped coriander and the juice of a lime. Toss everything together and pack into lunchbox.
Per lunchbox: 233 kcals, fat 4.3g, saturates 0.5g, carbs 30.1g, fibre 14.1g, protein 11.5g, salt 0.8g
---
HEALTHY SCHOOL LUNCH IDEAS
Skip the same ol' sandwiches and upgrade to these healthy outside-the-lunch-box surprises. Your kids' faces will light up when they see that you've taken lunch to the next level, and you'll be happy knowing that they're getting a nutritious and delicious meal.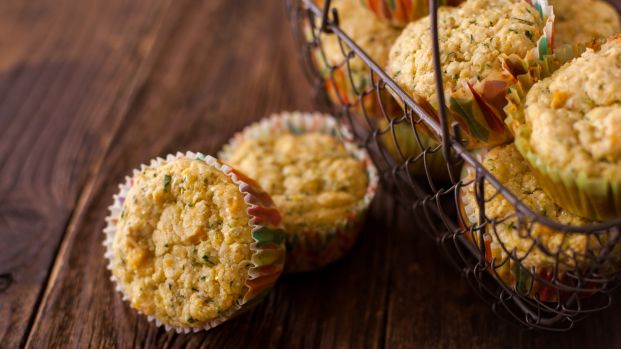 ZUCCHINI & CORN MUFFINS
"Very moist and yummy muffins with a nice crunchy crust — YUM! I liked how easy these were to prepare and how quickly they came together."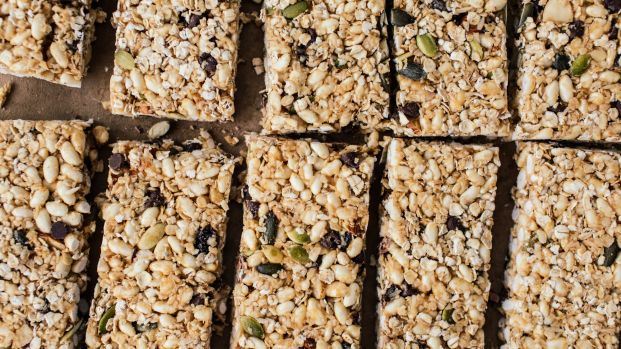 NO-BAKE GRANOLA BARS
"This gets a 'seriously yum' rating from me! They were easy to make and are pretty healthy too!"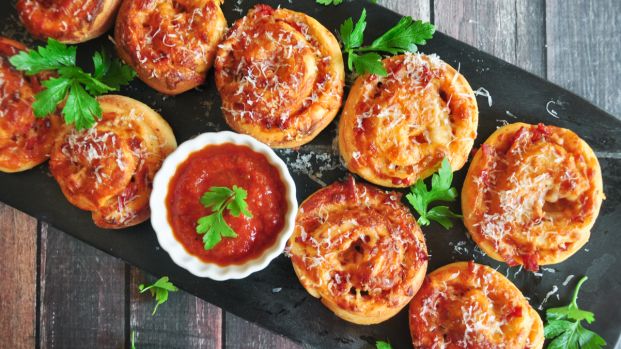 PIZZA ROLL-UPS
"Really easy and tasty. I added mushrooms and onions to mine."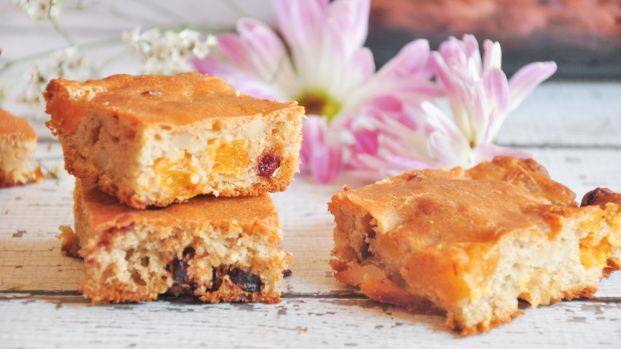 YOGURT FRUIT BARS
"I made these to freeze and pack in the kids' lunches — they're so good! It was easy to sub in the ingredients I had on hand for a yummy treat."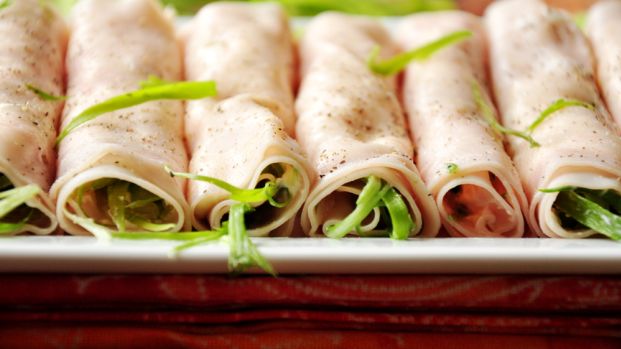 HAM & CREAM CHEESE ROLL-UPS
"These roll-ups taste great. They're super easy to make and just delicious."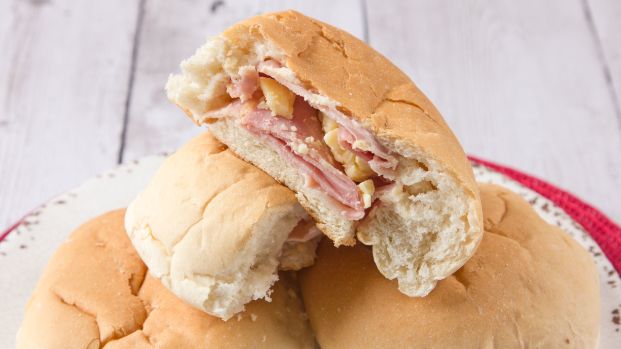 SECRET SANDWICH
"These are so easy, yummy and a fun alternative to another boring sandwich. I used Hawaiian sweet rolls with turkey and Havarti, and they were delicious!"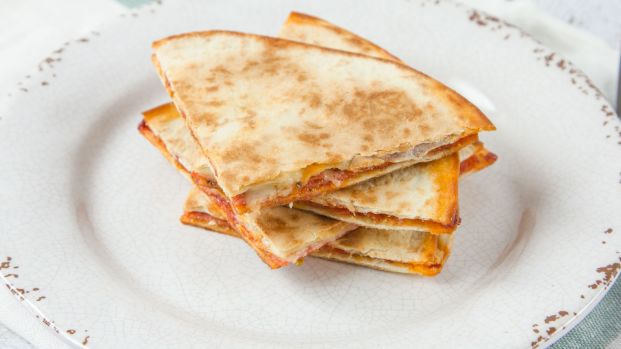 LUNCHBOX PIZZA QUESADILLAS
"The whole family loved these. I used pizza sauce and mozzarella cheese. I will try freezing them for quick snacks for the kids."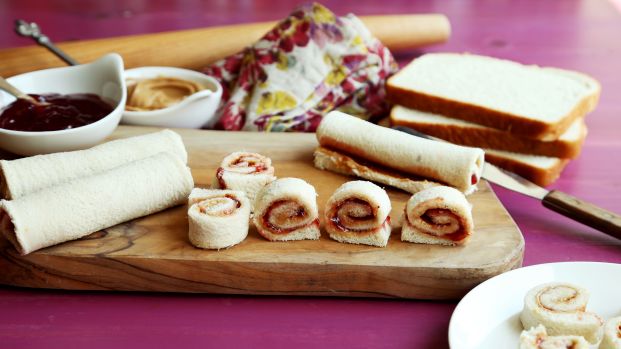 PEANUT BUTTER & JELLY SUSHI ROLLS
"I made these for my 7-year-old's lunch. She was so excited! I put the whole rolls in the fridge overnight and sliced in the morning. They were much easier to slice cold."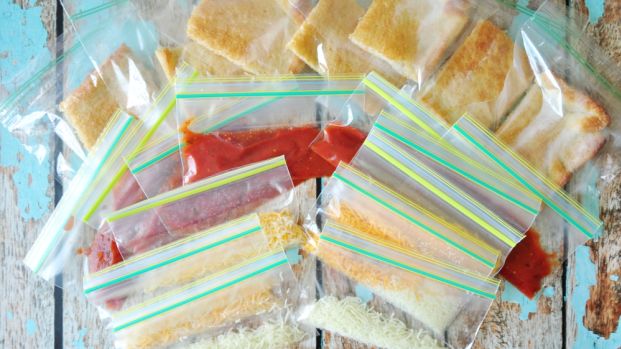 COPYCAT PIZZA LUNCHABLE
"I've been making the cheese-and-cracker Lunchables at home, but I never thought to make the pizza ones. My kindergartener loved it."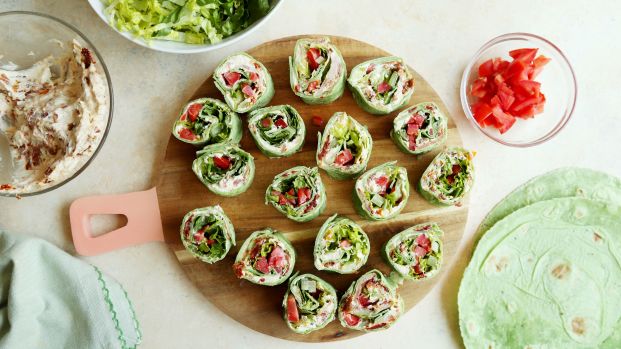 BLT PINWHEELS
"I made these for my grand kids and they loved them — as did their parents."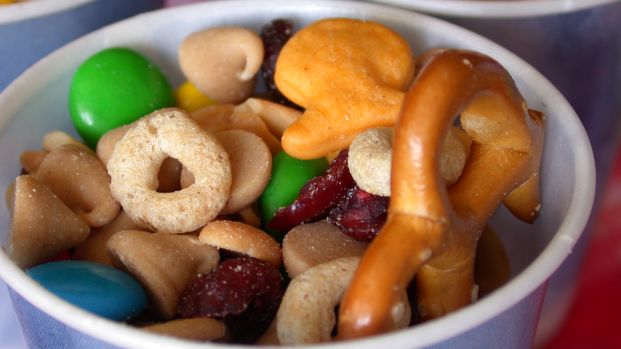 KIDDOS FAVORITE TRAIL MIX
"We had a blast making this. My kids polished off the whole batch and asked to make more."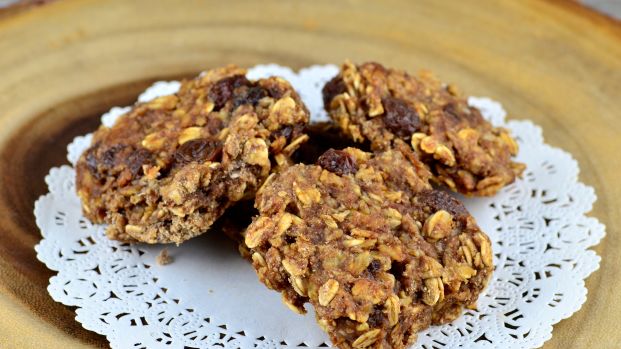 BANANA & OATMEAL SPONGE COOKIES
"My kid love these cookies. They're a great, healthy snack on-the-go."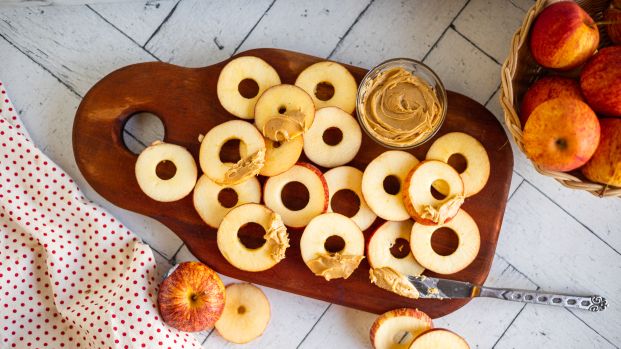 APPLES & PEANUT BUTTER
"This is a delicious and healthy way to start the day."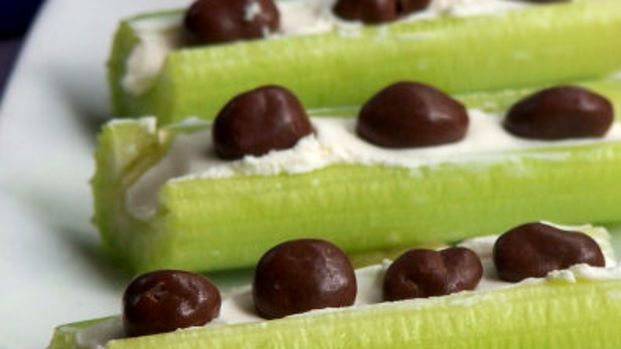 ANTS ON A LOG
"I made up a batch of these for school lunchboxes. They are very good! We like these better than the ones with the peanut butter."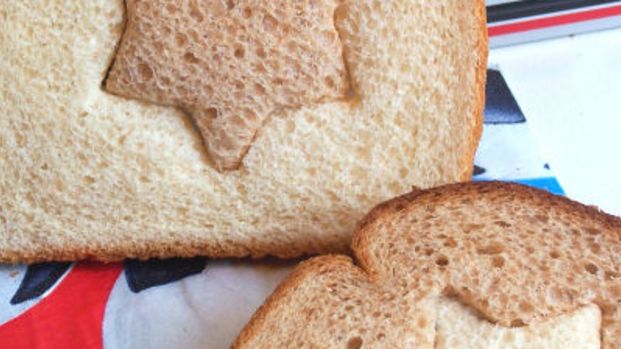 TWO-TONED SANDWICHES
"What a fun idea! I just used one cookie-cutter shape — a teddy bear — for my daughter's lunch yesterday. It worked great and she loved it!"
HAM & CHEESE MUFFINS
"Easy to make and delicious! Great for a quick snack, but would also be great for breakfast, lunch, dinner, brunch or tea — or elevenses, anyone? Yum!"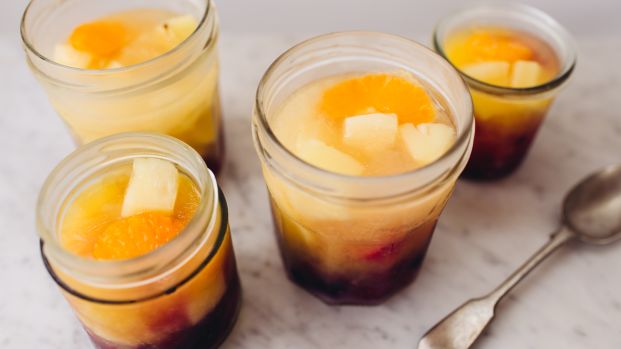 FROZEN FRUIT CUPS
"My kids loved these, and I love the fact that they don't have a lot of extra sugar. I put some in a large container for dinner and some into one-cup plastic freezer jars to use in lunchboxes."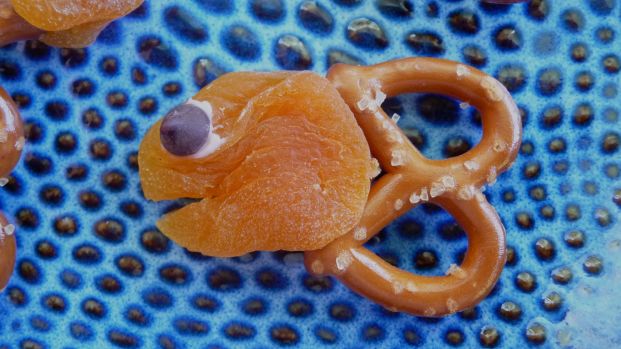 SCHOOL OF FISH
Your kids will go gaga for these little swimmers. It's amazing what you can do with four simple ingredients!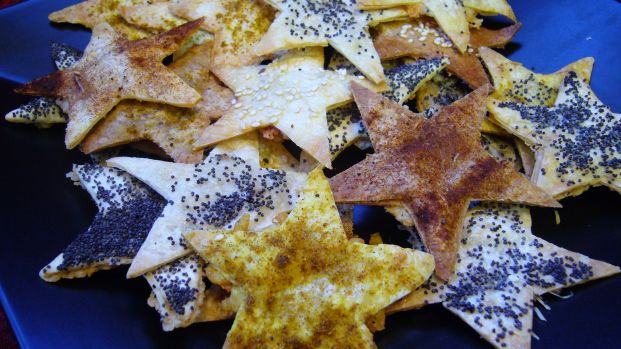 TORTILLA STARS
"This is a fantastic idea. They are everyone's favorite snack at my house."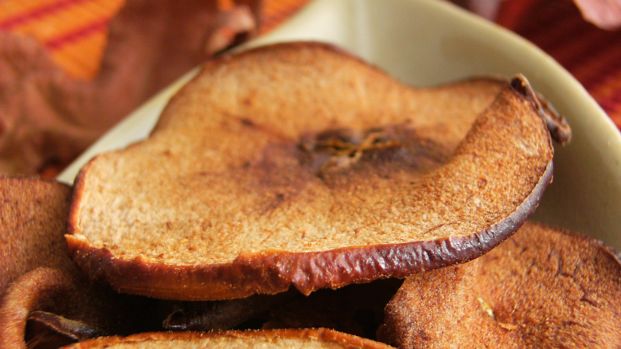 CINNAMON APPLE CHIPS
"Fun and easy to make. Not very sweet at all, which I liked. Made a great snack alternative to potato chips."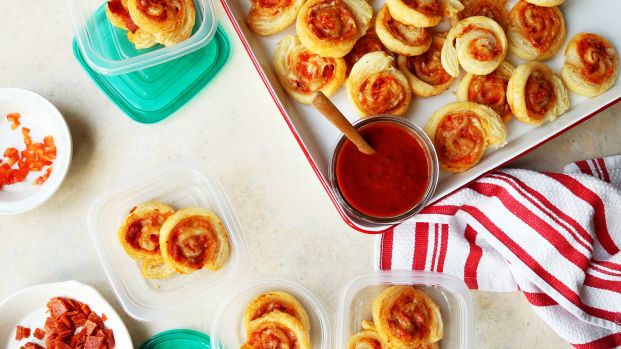 PIZZA SCROLLS
"I love these. They are perfect for my kids' lunchboxes, as they don't love traditional sandwiches. I will be using this recipe forever!"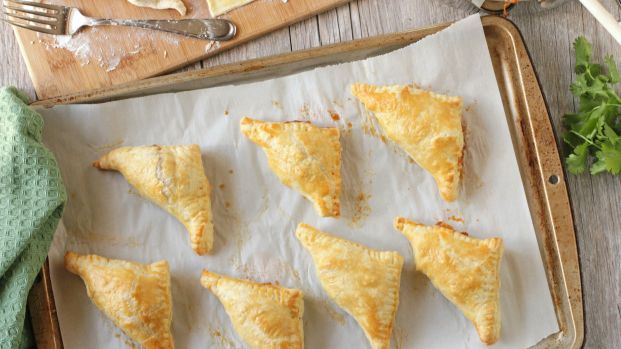 CHEESY TACO POCKETS
"These are very family-friendly, and the cheese ties the ingredients together well. They are awesome with sour cream and salsa!"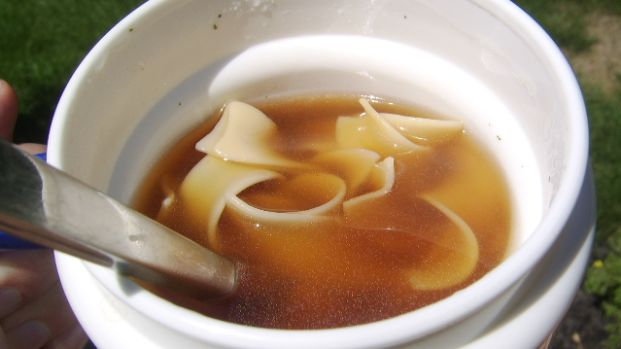 THERMOS NOODLE SOUP
"I'm giving this recipe five stars for sheer simplicity. It also happens to taste really great. Soup with no stove? Yes, please."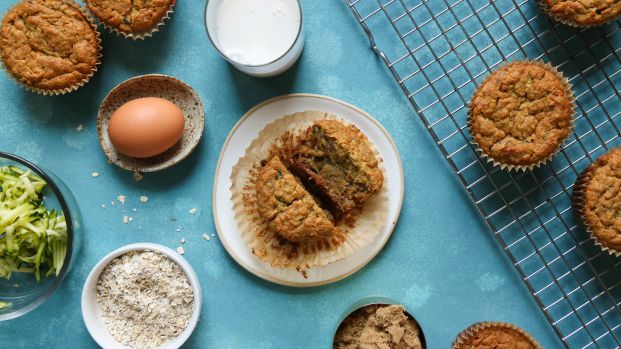 LUNCHBOX MUFFINS
"These are great! My 4-year-old is super picky, so her lunch-box gets a little boring — these are perfect. Next time I'm going to make a double batch!"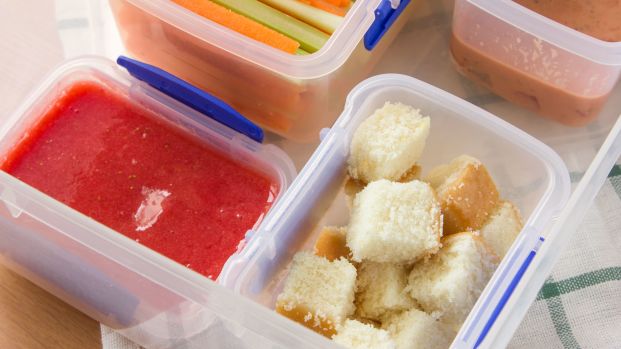 LUNCHBOX FUN-DUE
"Wonderful! This is such a great idea. My daughter isn't a big sandwich fan, so this really was right up her alley."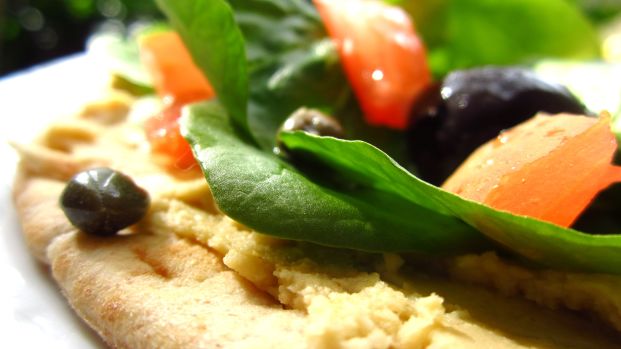 HUMMUS PIZZA
For a fun twist on a lunch-room favorite, try packing the veggies separately so your kiddo can build his or her own pizza at lunch.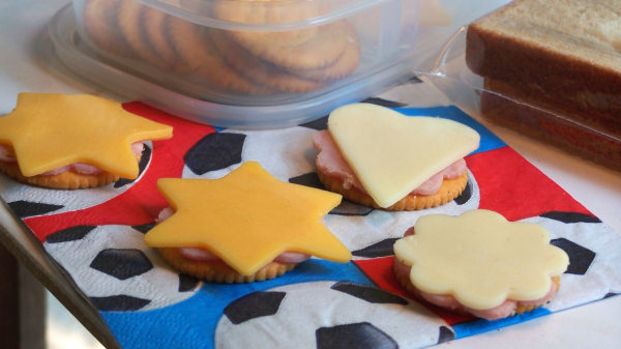 SNACK STACKERS (LUNCHBOX SURPRISE)
"Great idea! My first-grader loved it. He's always begging for the ones already made up at the store, which I refuse to buy."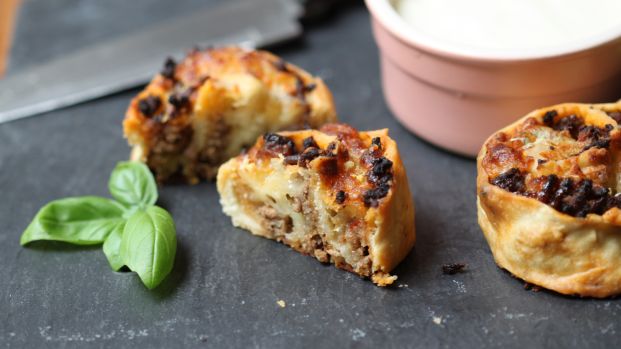 TACO ROLL-UPS
"My daughter and her friend ate these and loved them. There are some more in the freezer that I am sure will be great!"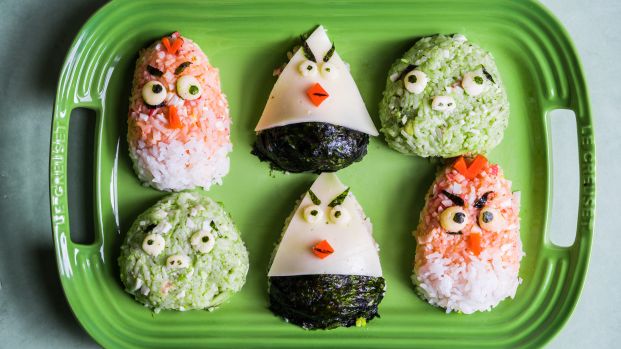 ANGRY BIRDS BENTO BOX
"My son loves rice balls (onigiri), so I decided to make him an Angry Birds lunch box! My hubby was more impressed and snatched it for his office lunch instead!"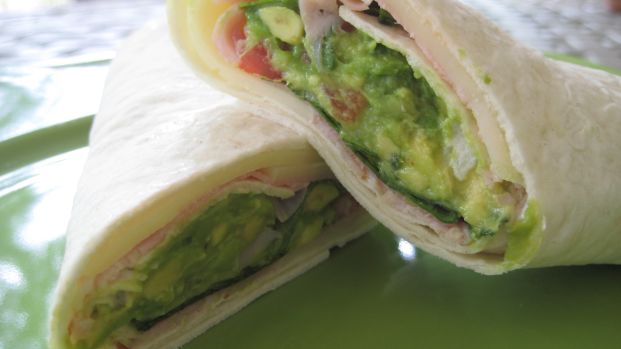 CALIFORNIA ROLLWICH
"I made this for my grandson. He loves avocados, so that made it easy to sneak in other veggies."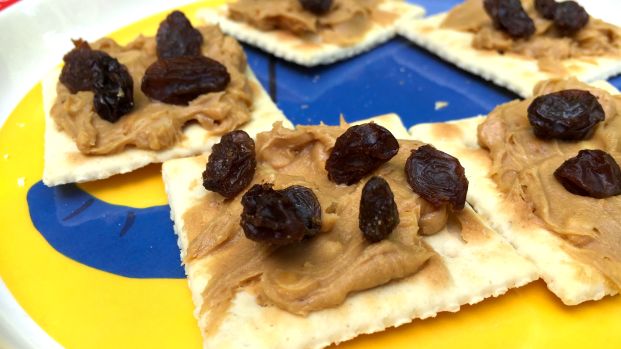 ANTS ON A RAFT
"This is a yummy snack. I love that they're made with things that I always have around the house."
5 easy & healthy lunchbox ideas for kids