Shirataki Noodles recipe tossed with a wickedly delicious "peanut" sauce that's oh-so creamy and nutty delicious! Best of all, this low carb konjac noodles recipe is no cook and with just 7 gram net carbs! Great hot summer recipes because it's super tasty served cold!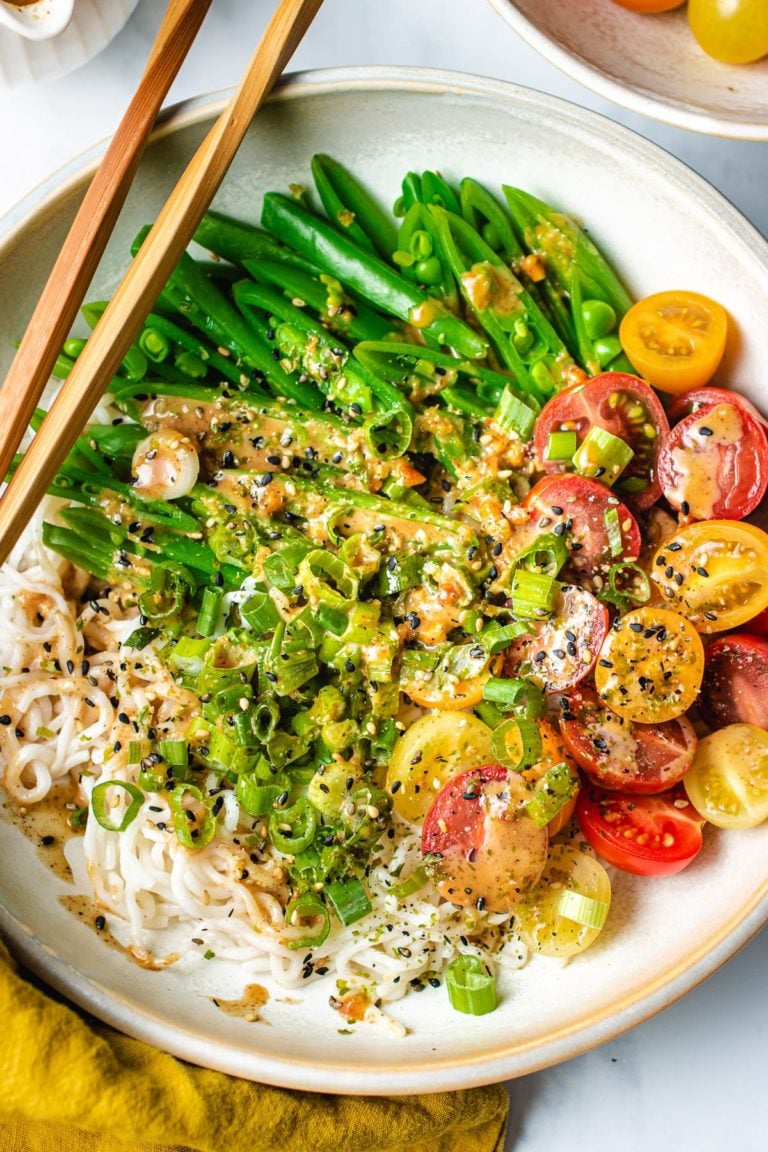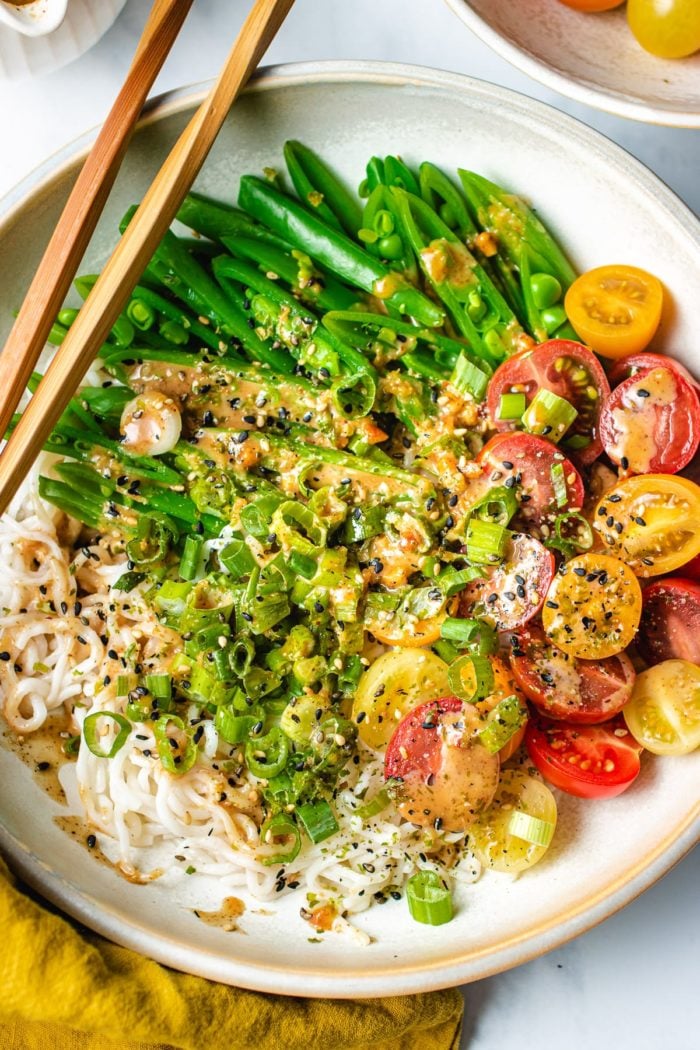 I'm a big fan of noodles. I love them so much that there are many low carb versions on the blog – Keto shirataki noodle lo mein, Whole30 ramen, Vietnamese noodle salad…etc. You name it! Since we are in the middle of a hot summer season, today's shirataki noodles recipe is not only low carb but also no cook! Yay!
Just pour and toss the noodles with that creamy nutty delicious almond butter made paleo "peanut" sauce. It's super delicious right out of the bowl. Great for lunch or dinner and you can pair it with any proteins you like!
Still not quite sold about this dish? Not sure about shirataki noodles? I'm here to help you get over the hump so that you can enjoy the noodles you love with less carb and with new exciting flavors!
WHAT ARE SHIRATAKI NOODLES
Shirataki or Konjac is made from 97% water and 3% fiber from the konjac plant (a water-soluble dietary fiber). It is a common staple food in Asia, especially in Japanese cuisine. They are perfect for low carb dishes.
The most common konjac made product in Asia is plain and in block shape. You can slice it and pan fry it or add it to soup, stew, or hot pot. Some people also call them Miracle noodles (a brand name that first started making these noodles), Zero noodles (another brand name), or Konnyaku noodles.
My go-to shirataki noodles are from Well Lean. Their noodles are blended with oat fiber so the color is white (not translucent) and the texture is less rubbery. These noodles are not only low carb, gluten-free, but also have less fishy smell straight out of the package.
DO SHIRATAKI NOODLES TASTE GOOD?
Shirataki noodles actually have no flavor and will take on the flavors of the dish well. They come in many shapes – block, mini round, or mini bundle. The most popular versions are made into shirataki rice, fettuccine noodles, and thin wavy noodles in the U.S.
Texture wise, they are more chewy and some people describe them rubbery. The texture is different from gluten-free spaghetti or pasta noodles. Personally, I found that Miracle noodles have a more rubbery texture and stronger fishy smell out of the package than Well Lean and that's a big reason I use Well Lean in all my low carb recipes.
INGREDIENTS FOR SHIRATAKI NOODLES RECIPE WITH WHOLE30 "PEANUT" SAUCE
You can add any veggies you like to this noodle bowl recipe. It's super versatile. I found that it pairs well with a creamy texture sauce. Here's what I use –
Shirataki or konjac noodles
Sugar snap peas or snow peas
Cherry tomatoes
Scallions
Toasted sesame seeds, optional
Paleo Peanut Sauce, made with almond butter
You also try this dish with my Paleo Thai "Peanut" Sauce dressing for a Thai flavor twist like this Cucumber Noodles recipe.
HOW TO COOK SHIRATAKI NOODLES
Rinse: To prepare the noodles, rinse them under cold running water to remove the smell then drain the noodles.
Dry roast (saute) them without oil until the water evaporates to make it odorless. This is a common step for making shirataki noodles. You can then add them to stir-fry or soup, or combine with sauce.
Personally, I found that Well Lean shirataki noodles don't need to be sauteed after rinsing. I simply rinse them well and set aside to drain and toss with a dressing of my choice. Easy, healthy, and absolutely delicious!
These noodles soak up the flavor of whatever seasonings you add them to, making them the perfect low carb noodles for paleo and keto dishes.
SUBSTITUTE FOR SHIRATAKI/KONJAC NOODLES
If you are doing Whole30 or just not a fan of shirataki (no matter what I said ;d)….here are some alternatives. They will be just as yum!
Zucchini
Daikon (more peppery taste)
Cucumber (like my Thai peanut sauce cucumber noodles)
Spiralize these healthy veggies and toss them in the creamy "peanut" sauce. Hmm…yummy delicious!
TO MAKE IT EXTRA LOW CARB, TRY SWAPPING THE PEAS AND TOMATOES FOR –
Bamboo shoots
Baby spinach
Baby arugula (peppery taste)
HOW TO MAKE AHEAD & PACK FOR LUNCH?
Great question! Pack the sauce separately from the konjac noodles. If it's in a mason jar, layer the noodles at the bottom and the softer veggies on the top. Feel free to add a boiled-egg and cooked protein to make it even more satiating.
WHAT DISHES GO WELL WITH THIS DISH?
There are so many! Here are some of my favorites –
Chinese sweet and sour chicken
Mandarin Orange Chicken Salad
Chinese Eggplant In Garlic Sauce
Asian Carrot-Celery Slaw
Cumin Beef Stir-Fry
Hunan Beef Stir-Fry
Chinese Broccoli with Vegetarian Oyster Sauce
Simmered Kabocha Squash Recipe
More Low Carb Meal Prep Ideas
DO YOU HAVE MORE LOW CARB SHIRATAKI/KONJAC RECIPES?
Yes. Absolutely! Feel free to browse my highlighted selections below and if you have a recipe request, leave a comment below so I can see it!
Thai Fried Rice with Chicken (made with shirataki/konjac rice)
Keto Garlic Fried Shirataki Rice (made with shirataki/konjac rice)
Shirataki Noodles Chicken Lo Mein
Paleo Broccolini Salad  (swap the konjac noodles for the rice noodles)
Vietnamese Lemongrass Chicken Noodle Salad
More Low Carb Recipes
More Paleo Japanese Recipes
Friends! This Shirataki peanut sauce noodles recipe is no cook, low carb, and downright tasty right out of bowl! My husband loves this dish so much that he's practically begging me to always have a jar of that creamy Whole30 "Peanut" Sauce ready in the fridge so that he can enjoy it anytime whenever hunger strikes. It's that easy to put together – just rinse your noodles, throw in some veggies, and toss with the sauce. The possibilities are endless.
If you give this dish a try, please rate the recipe and leave a comment below after making it. My readers and visitors to the blog enjoy reading and learning from you, too! Let us know your favorite way of making shirataki noodles. I can't wait to read your comments!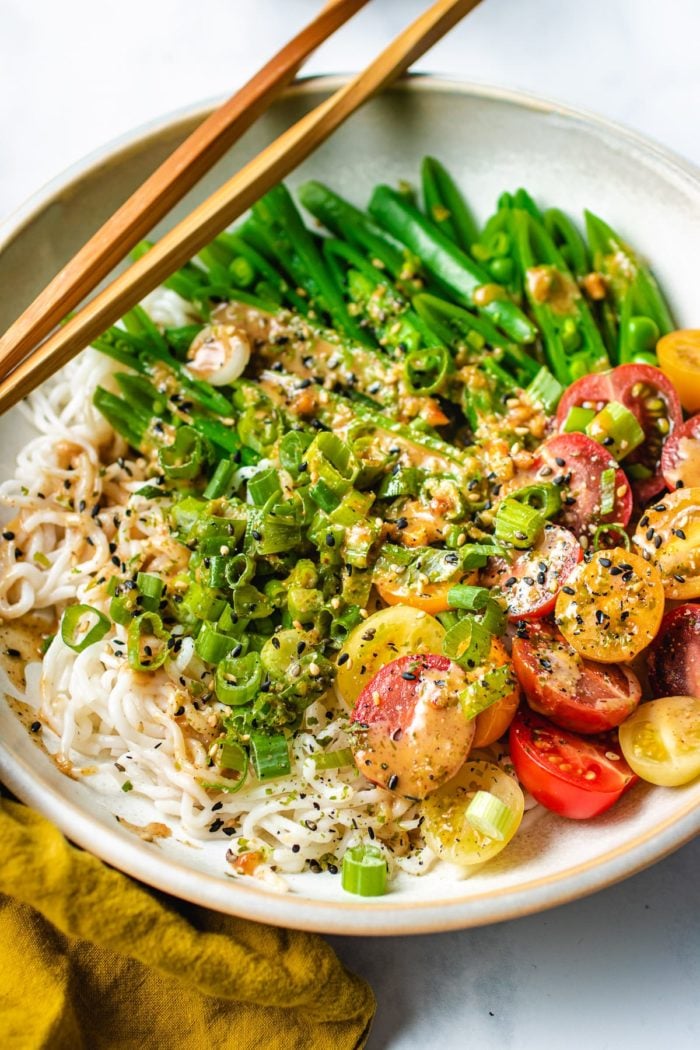 SHIRATAKI NOODLES RECIPE WITH PALEO "PEANUT" SAUCE
Shirataki Noodles recipe tossed with creamy paleo peanut sauce. This low carb konjac noodle recipe is no cook and super tasty served cold!
INGREDIENTS
14

 

oz.

 

shirataki noodles

, 

2 packets of well lean shirataki/konjac noodles

5

 

oz.

 

sugar snap peas

, 

or snow peas, see notes

8

 

oz.

 

cherry tomatoes

, 

see notes

2

 

bulbs

 

scallions

Toasted sesame seeds

, 

optional

Paleo Peanut Sauce

, 

made with almond butter
INSTRUCTIONS
Drain the shirataki noodles in a colander and rinse them under running water for 1 minute. Set them aside to drain well.

Remove the strings of the peas on both sides. If the peas are tender, I usually enjoy them raw or I'd microwave them with 1 tbsp water for 1 minute. Rinse the peas in cold water, drain well, and slice them in half lengthwise.

Slice the tomatoes in half and chop the scallions. Add them to a large serving bowl with the noodles and the peas.

To serve: sprinkle with toasted sesame seeds, if using, and drizzle with almond butter made Paleo "Peanut" Sauce. Toss and serve immediately.
NOTES
To make this dish extra low carb, try swapping the peas and tomatoes for –
Bamboo shoots
Baby spinach
Baby arugula (peppery taste)
Should you saute the shirataki noodles?It depends on your personal preference. Well Lean shirataki noodles have little to no fishy smell straight out of the package. It's much odorless, compared to miracle noodles. I, personally, am quite used to shirataki/konjac made products. If you prefer, lightly saute the noodles for about 5 minutes without oil. It'll remove the odor further.
How to make ahead & pack for lunch?Great question! Pack the sauce separately from the noodles. If it's in a mason jar, layer the noodles at the bottom and the softer veggies on the top. Feel free to add a boiled-egg and cooked protein to make it even more satiating.
The nutritional label does not include the Paleo Asian "Peanut" Sauce. You can get that info by clicking the link. You can also use my Paleo Thai Peanut Sauce to keep the sauce super low in carb.
NUTRITION
serving: 
1
serving
, 
calories: 
57
kcal
, 
carbohydrates: 
9
g
, 
protein: 
3
g
, 
fat: 
1
g
, 
saturated fat: 
1
g
, 
sodium: 
10
mg
, 
potassium: 
259
mg
, 
fiber: 
2
g
, 
sugar: 
4
g
, 
vitamin a: 
883
iu
, 
vitamin c: 
46
mg
, 
calcium: 
29
mg
, 
iron: 
1
mg