Learn how to make Banana Fritters Jamaican Rastaman Style
Jamaica is synonymous with deep-fried, delicious food. Hello, my name is Natalie and today I'm talking to you about the national dish of Jamaica, which is banana fritters! In this short guide I will show you how to cook this fantastic recipe.
MA'S SECRET JAMAICAN BANANA FRITTERS
INGREDIENTS
Nutrition
3bananas (ripe, starting to turn brown)
1 1⁄2cups flour
1⁄4cup milk
2 -4tablespoons brown sugar (or white)
1⁄4teaspoon vanilla extract
1pinch salt
oil (for frying)
DIRECTIONS
Peel bananas and place into a large bowl. Smash them with a fork until they start to get somewhat runny. Add sugar, vanilla, milk, salt, and flour and mix until the "batter" just barely runs off of the spoon (just a little thinner than the consistency of pancake batter). If it is too thick, it will be too airy, like pancakes.
Heat oil in a frying pan on medium heat.
Once the oil is HOT, drop tablespoons of the batter in at a time, as if you were making mini pancakes.
When the edges are firm, turn over and cook the opposite side. The fritters should be a medium-brown color, not light and not burnt. Drain onto paper towels and serve warm. Mmm — .
Jamaican Banana Fritters Recipe
For years, Banana Fritters was the only Jamaican recipe I knew how to make.I can't even recall when my mother taught me how to make them. What I do remember though, is almost burning down the house when I was making some one day after school. So, I feel like sharing "my recipe" with you is an opportunity for redemption!
I must've been about 12 or 13 years old, and I'm not sure why I was home alone. All I remember is that I was craving some banana fritters and decided to make a batch while I waited for everyone else to get home. Problem was that I was watching TV at the same time … in another room! Beyond my better judgement, I placed a frying pan with oil on the stove to heat up while I raced to the family room to continue watching Love Connection.
I could smell the oil heating up, but I didn't budge. I was waiting till after the commercial to find out how the show's date went … probably disastrous, which is why I couldn't peel myself away from the TV. When I finally turned my head to go back to the fritters I saw smoke bellowing out of the kitchen! I ran in to find a black frying pan with a flickering flame on the handle … and a large black "swoosh" of soot that went from the backsplash to the middle of the ceiling in front of the stove.
Well, the kitchen not only had to be cleaned, it had to be re-wallpapered, too. And, of course, for years I was forbidden to cook anything more than toast when no one was at home. What was worse was that, every time soot was found in an unexpected place, I had to live through being reminded that I almost burned down the house.
Today, I still love banana fritters, but I wonder about two things: What would've happened if I went into the kitchen five minutes earlier when the fire was raging (I consider myself lucky) and … whatever happened to Chuck Woolery?Ingredients
1 ⅔ cup mashed overripe Bananas (about 3-5 medium bananas)
2-3 Tbsp Brown Sugar
¼ tsp Nutmeg
¼ tsp Cinnamon
1 tsp Vanilla extract
Pinch Salt
1 cup all-purpose Flour
4-5 Tbsp Cooking Oil
1 Tbsp granulated Sugar
Instructions
Mash bananas with sugar and spices; stir flour into banana mixture
Heat 1 or 2 Tbsp cooking oil on High and, using a serving spoon, spoon batter into pan
Fry fritters until crisp and brown on both sides; you may have to add more cooking oil.
When you press them if no batter oozes out they're done.
Remove fritters from pan and place on paper towel.
Sprinkle with white sugar and eat warm.
Jamaican Banana Fritters
This simple and delicious Jamaican banana fritters recipe was passed down to me from my mother who I'm almost sure got it from her mother, my grandma Ma Pum. In my own home, it is a favourite, and now I get the chance to share this special family recipe with you.
Go Bananas!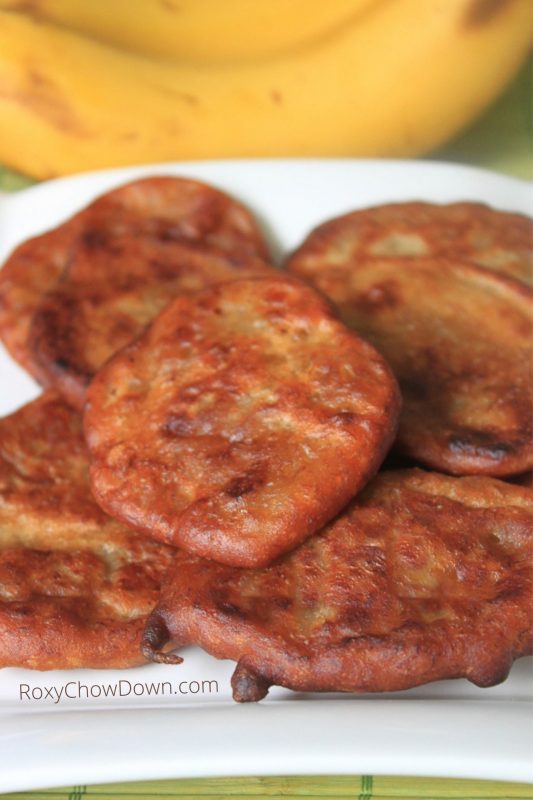 Ripe bananas are sweet, energy-boosting fruit commonly eaten as a quick snack in homes across the world.
No matter how much we enjoy bananas, sometimes a few bananas get over-ripe, and become too soft, super-sweet and not particularly pleasant to eat on it's own. That's the perfect time to use this delicious banana fritters recipe. Over-ripe bananas are the ideal ingredient for Jamaican Banana fritters and that's how my recipe comes in handy.
Go 'Bananas' and quickly use up those over-ripe bananas to whip up a sweet yummy snack you'll crave over and over again!
Sweet Treat
Banana fritters are tasty addictive snacks that's a favourite among many Jamaicans. It's a recipe that's kid-friendly, family-friendly, budget-friendly and absolutely satisfying. For me, snacks like banana fritters are nostalgic. It brings back wonderful memories of growing up in Jamaica enjoying the best homemade meals. As a child, my mother made banana fritters for the family for breakfast, lunch, dinner or supper. Looking back, banana fritters has always been my favourite comfort food. It was a sweet treat my mother would make that would lift my spirit and 'full up' my belly. My mother's banana fritters were sweet and simple and I always tasted the love inside.
How to Cook Perfect Banana Fritters
Today I'll share with you all my secret tips to teach you how to cook perfect banana fritters, every time. My recipe will help you to avoid the common problem of the batter absorbing too much oil.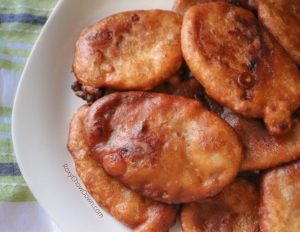 Here are tips on how to make perfect Banana Fritters that are light, fluffy and tasty.
Be careful of how much sugar you use – adjust the quantity of sugar you use based on the ripeness of your bananas. This recipe uses bananas that are 'just ripe'. If using over-ripe bananas, use less sugar.
Use All-Purpose flour and ensure there's enough flour in your batter – Too little flour and too much bananas will make your fritters either; stick to your pan, absorb lots of oil, or fall apart.
Manage the quantity of oil used – Banana fritters are best fried in shallow oil.
Make sure your cooking oil is hot – If the oil is not hot enough for frying your fritters, your batter will soak up the oil.
Pay attention to your fritters as they cook to prevent burning.
Now go ahead, check to ensure you have all the ingredients on hand and go give this recipe a try.